Seed Starter peat Pots KIT |100% Organic Biodegradable | Cup for P...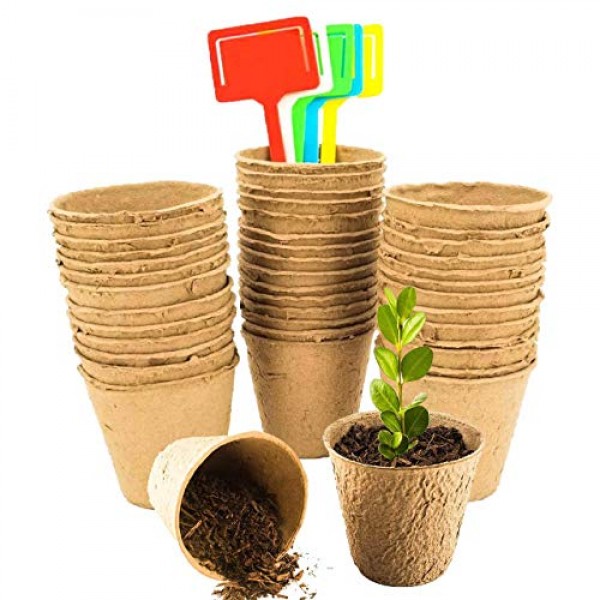 Seed Starter peat Pots KIT |100% Organic Biodegradable | Cup for Planting Vegetable and Tomato seeds |10 FREE TAGS INCLUDED | 3,5 Inch - 50 PCS | ECO-FRIENDLY
HTML:
Our products are developed and tested under highest conditions, being certified by all necessary standards of quality, in order to meet the rigorous expectations of our customers. The selection of our materials is based on careful screening processes that guarantee excellent products.
Why should you purchase this product?
Now you can get your perfect garden either indoor or outdoor with these peat pots which allow the roots of your seedlings to grow through them and they will not get harmed. Also, these organic pots are 100% biodegradable and provide an environmentally friendly way to start seedlings without using plastic or any other no biodegradable planters.
Some of the amazing features of this product:
50 peat pots per pack;
10 tags to identify your seedlings;
Suitable for every kind of garden you want to start;
Easy to use;
Save your time and money;
Effective seed starter for any type of seed;
100% biodegradable and eco-friendly.
ADD TO CART NOW and you'll fall in love instantly with this practical and advantageous peat pots pack!
It can be a perfect family plan! Consider taking extra ones and teach your kids how to grow their own food!
It´s time to take care of our Planet and with this products for sure you are helping it!
50 PCS and 10 TAGS FOR GETTING YOUR GARDEN STARTED: finally you will get your dreamed garden in the most easy, practical and Eco-friendly way! These peat pots are perfect for planting every type of seed from tomato seeds to any vegetable seeds. Also, we are giving you FOR FREE 10 tags so you can identify your seedlings, write a special message for a gift and organize them much better! 3.5 inches are ideal for starting your nursery, greenhouse or garden, to plant either flower seeds
100% ORGANIC: These biodegradable seed starter pots are made from peat moss with a bit of shredded wood fibers and firmly compressed without any glues, inks or chemical materials, providing an environmentally friendly way to start seedlings without using plastic or any other non biodegradable planters. LET'S TAKE CARE OF THE ENVIRONMENT!
ULTRA EFFECTIVE: For all who like to eat healthy, for all vegans,Vegetarians, this is a convenient and gentle way to start seeds, reducing trauma to the roots. Its porous feature allows air and water to circulate and allows the roots of the seedlings to grow through them fresh and healthy, which is why it is perfect for planting all kinds of vegetables like tomatoes, carrots, lettuce and more!
GREAT FOR INDOOR AND OUTDOOR SPACES: get your indoor herb garden or any type of garden you want! Just place your peat pots in a warm, sunny area indoors and outdoors. You will get the most beautiful and wonderful flowers at each time of the year. Finally, you can easily transplant your seedlings into the ground without disturbing the root of your seedlings.
100% MONEY BACK GUARANTEE: we are compromised with client satisfaction and enhancing the garden experience. Our aim is 100% satisfied customers. If you are not fulfilled with our Peat Pots Starter, you can return it anytime and get a full refund.