Seed Needs, Low Growing Wildflower Mixture 100% Pure Live Seed 3...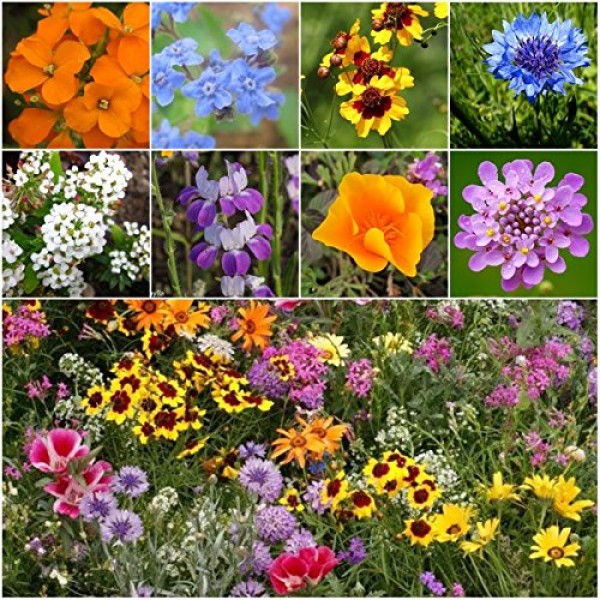 Seed Needs, Low Growing Wildflower Mixture (100% Pure Live Seed) 30,000 Seeds Open Pollinated
Choose our Low Growing Wildflower Mixture to establish a colorful blend of flowers, that only grow to about knee height. The vast majority of these plants will reach an average height of about 12 inches to 20 inches tall. This makes them a perfect choice to use in flower beds, raised beds, along fences & driveways, as well as walkways too. The Low Growing Wildflower Mixture consists of 17 species, 59% of which are annuals. The remaining varieties are 14% perennial, 13% tender perennial and 14% biennial. Annuals will grow quickly from freshly harvested seeds. They bloom profusely through the summer months and later die with the first killing frost. Seeds can easily drop to the bare ground beneath, regrowing fresh plant life the following year. Perennials will establish a deep root system within the first year of growth. The plant life will then wilt on the surface, later returning the following Spring. This blend of Wildflowers will produce plants in practically every color of the rainbow, from red, orange, yellow, blue, violet and even white. A few popular favorites are Cornflower, Wallflower, California Poppy, Chinese Forget-Me-Not and more.
Quality Low Growing Wildflower seeds packaged by Seed Needs. Each package contains roughly 30,000 seeds packed in a foil pouch for maximum freshness.
Includes 17 species of wildflowers, including colors of red, orange, yellow, blue, pink, purple and more.
The wildflowers within this mixture grow to a mature height of 12 to 20 inches tall.
The seeds within this Low Growing Mixture are sourced from open pollinated plants.