Seed Needs, Zinnia Crazy Mixture Zinnia elegans Twin Pack of 250...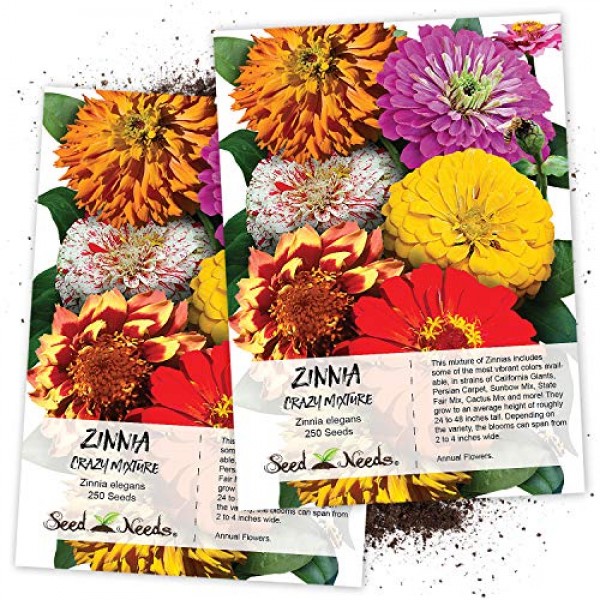 Seed Needs, Zinnia Crazy Mixture (Zinnia elegans) Twin Pack of 250 Seeds Each
Grow a garden filled with colorful Zinnias, from freshly harvested Zinnia elegans seeds. Crazy Mixture is a blend of all of the Zinnia flowers that we have to offer. A few favorites include, Thumbelina, Pumila, Canary Bird, California Giants, Persian carpet and more. This mixture will grow to a varying height of roughly 24 to 48 inches tall, displaying beautiful, single petaled & double petaled blooms, all summer long. Crazy mixture boasts every color of the rainbow! These bright and cheery beauties will have your garden filled with beneficial insects, such as butterflies, bumblebees, honeybees and hummingbirds as well. Zinnias are perfect for use as a cut flower and are often seen in many floral arrangements and bouquets.
Quality Zinnia seeds packaged by Seed Needs. Intended for the current and the following growing season. Packets are 3.25" wide by 4.50" tall and come with a full colored illustration on the front side, as well as detailed sowing instructions on the reverse.
This mixture of Zinnias, Aptly named "Crazy Mixture," will produce an array of colorful blooms. Both single petaled and double petaled varieties are included.
Crazy Mixture consists of some of our most popular choices, such as Thumbelina, Pumila, California Giants, Persian Carpet & more!
Zinnias make an excellent cut flower for many floral arrangements and bouquets, and will attract an array of beneficial insects to the garden as well. These insects include bumblebees, butterflies, honeybees and hummingbirds.
All Zinnia seeds sold by Seed Needs are Non-GMO based seed products and are intended for the current & the following growing season. All seeds are produced from open pollinated plants, stored in a temperature controlled facility and constantly moved out due to popularity.