Carrot Lovers Seed Collection 9 Individual Seed Packets Non-GMO ...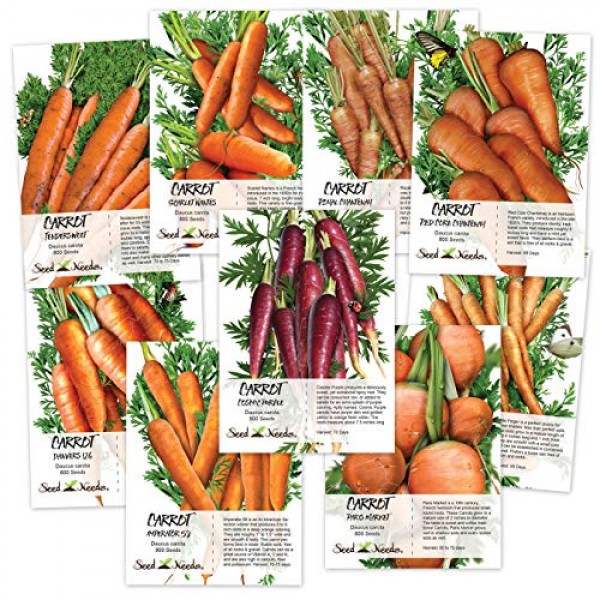 Carrot Lovers Seed Collection (9 Individual Seed Packets) Non-GMO Seeds by Seed Needs
This collection of carrot seeds includes 9 individual packets of delicious and heirloom carrots. Included are Cosmic Purple, Imperator 58, Royal Chantenay, Red Core Chantenay, Scarlet Nantes, Tendersweet, Paris Market, Danvers 126 and Little Finger. Each packet contains roughly 800 seeds for a total of 7,200 freshly harvested Carrot seeds. The packets measure 3.25 inches wide, by 4.5 inches tall and also display beautiful illustrated images on the front of the packets, as well as detailed and in depth sowing information on the reverse side.
All seed packets by Seed Needs come complete with a beautiful illustration on the front side of the packet, with detailed and in depth sowing instructions on the reverse side.
The packets measure 3.25" wide, by 4.50" tall and are packed for the current and the following growing seasons.
Carrots are easily grown in rock free, loose soils and prefer the cooler temperatures of early Spring and early to late Autumn.
These carrots can range in harvest date, but typically carrots are harvested in 65 to 70 days after first sprouts appear.
Carrots are fairly easy to grow and take up little to no room in the garden.