SE 8-Piece Pottery Tool Set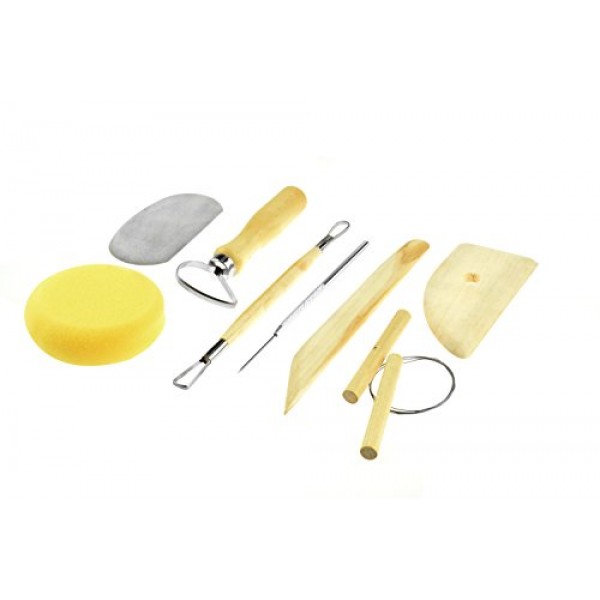 SE 8-Piece Pottery Tool Set
SE is proud to bring you the 8-Piece Pottery Tool Set—a perfect starter set containing the most popular tools in a convenient vinyl pouch with zipper closure. This is a must-have pottery tool set for anyone beginning to work with ceramic, clay, mud or plaster. It is also great for schools and studios wanting to offer a quality tool set to their students. The components are made with high-quality steel and polished hardwood to ensure years of productive use.
All of the most sought-after basic tools are included in this set at a value that is unparalleled:
(1) Loop tool for removing clay
(2) Ribbon tool for cutting, shaping, and slicing
(3) Needle tool to cut clay strips or holes, make designs, or place objects
(4) Potters rib for shaping and smoothing
(5) Modeling tool for cutting, contouring, decorating, and smoothing
(6) Smooth scraper for shaping and trimming
(7) Sponge
(8) Wire clay cutter for slicing clay or trimming pots and other objects
Important:
items. Genuine SE products come with our SE logo on the packaging.
SE products are quality items for extremely reasonable prices. SE is committed to providing the customer with the best source for value possible on the market. You will enjoy the quality, function and array of uses this SE 8-Piece Pottery Tool Set has to offer every time you reach for it.
SE is a registered trademark protected by US Trademark Law.
Contains the 8 most essential tools for potters
Components made of high-quality steel and hardwood
Comes in a storage pouch with zipper closure
Great set for beginners
Use for cutting, decorating, shaping, and smoothing