Schneider Labs Lead in Toys/Products 5PK Test Kit 5 Business Days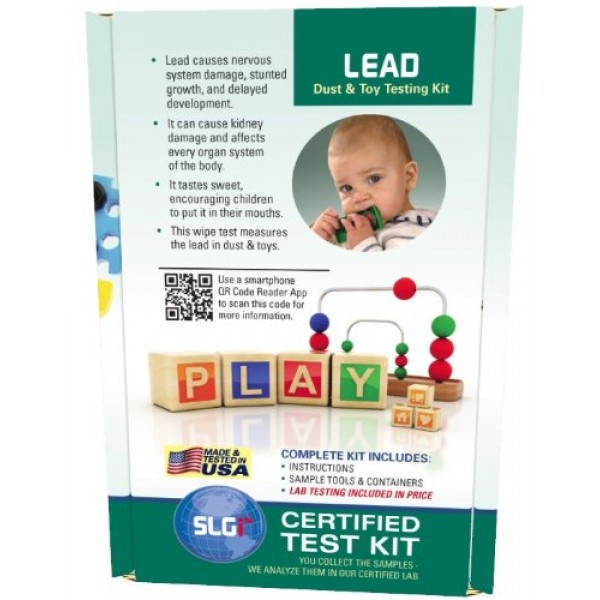 Schneider Laboratories wants you to know that your children may be exposed to lead - a well-known health hazard. Toys that have been made in other countries and then imported into the US or antique toys and collectibles passed through generations put children at risk for generations. Lead is invisible to the naked eye and has NO smell. Children, who as a part of normal development are often putting things in their mouths, are especially at risk for lead exposure. Only a certified laboratory can accurately test a toy or product for lead. Although there are less expensive "do-it-yourself" kits available, they do not indicate how much lead is present and their reliability at detecting low levels of lead has not been determined. Lead is potentially used in 2 aspects of the toy manufacturing procedure. Paint used on toys may contain lead. In the US in 1978, lead in paint was banned. It is still widely used internationally and often times on toys and other commonly used products. The use of lead in PLASTICS has not been banned. It softens the plastic and makes it more flexible so that it can go back to its original shape. When the plastic is exposed to substances such as sunlight, air, and detergents, the chemical bond between the lead and plastic breaks down and forms a dangerous lead-ridden dust.
Use this SLGI Certified Test kit to send us a (ONE) sample of toys or other products that you suspect may be contaminated. With our Guaranteed 5 business day turnaround time, rest assured you and your family are not at risk.
This kit contains 5 necessary samples taking materials as well as a prepaid shipping label and package.
Unlike our competitors, we have NO hidden fees. Kit cost covers all analysis! SLGI offers a complete line of Certified Test Kits for any of your personal or professional needs.
All tests are run by approved methods.