Rotus 30 Pairs Gold Eye Mask Power Crystal Gel Collagen Masks, Gre...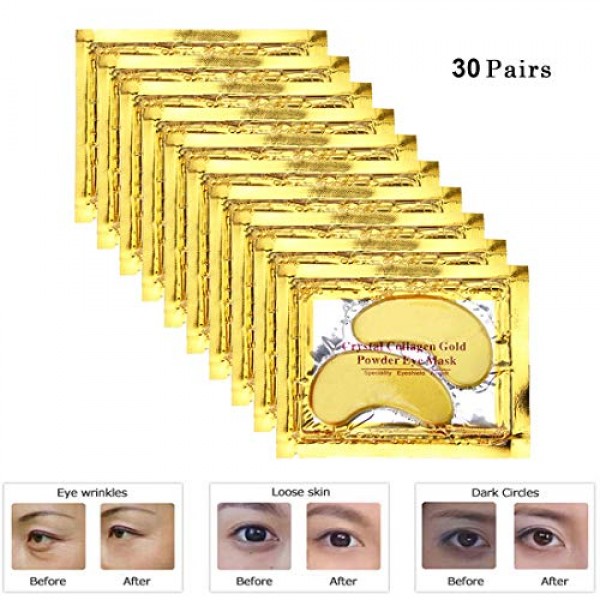 Rotus 30 Pairs Gold Eye Mask Power Crystal Gel Collagen Masks, Great For Anti Aging, Dark Circles & Puffiness
Totally 30 pairs , 2 pairs one day, one pair use on the morning, one pair use before sleeping, each time keeps 15-30 minutes. If you want a good results, please use lasts for more than one month.
Item Function:
Eliminates dark circles and fine lines - 100% Collagen and other materials present within the eye mask, speed-up cell & collagen rejuvenation
This increase the elasticity in the eye contour while reducing eye bags and problems such as dark rings & fine lines
For firming and sparkling eye contour
Relieve Fatigue eyes
Moisturizes eye contour
Reduce Bags Under your Eyes
Reduce Wrinkles and Dark Circles
Helps to Expel Harmful Toxins and Free Radicals
Reduce Eye Puffiness
Hydrate and Moisturize your skin
Prevent Premature Skin Aging
Reduce Inflammation
Helps Depuff Area Under Eye
Who need to use ?
Lack of sleep and who often stay up all night;
Stria eyes, eye, black eye, eye fatigue;
Improper diet, chain smokers;
Long-term use of eye makeup or improper use cosmetics;
Female menstrual period; Long-term reading, writing, driving, etc. are easily lead to eye fatigue;
Long-term use of the computer, watching TV.
Package Includes: 30 Pairs of Gold Collagen Eye Masks/ Patches
Anti-wrinkle, anti-aging, lifting, blackhead remove, Powerful reduces dark circles & puffiness.
Stimulates collagen production for firmer more youthful facial contours and increases skin elasticity.
Refirming eye bags; Deep moisturizing and wrinkle smoothing.
Firmer, Smoother, Tone, Regeneration Of Skin. Suitable For Home Use Hot or Cold.
To ensure you receive 30 pairs authentic crystal collagen eye masks, please order from Rotus Direct.