Robelyn Labs Belly Body Butter with Elastin Collagen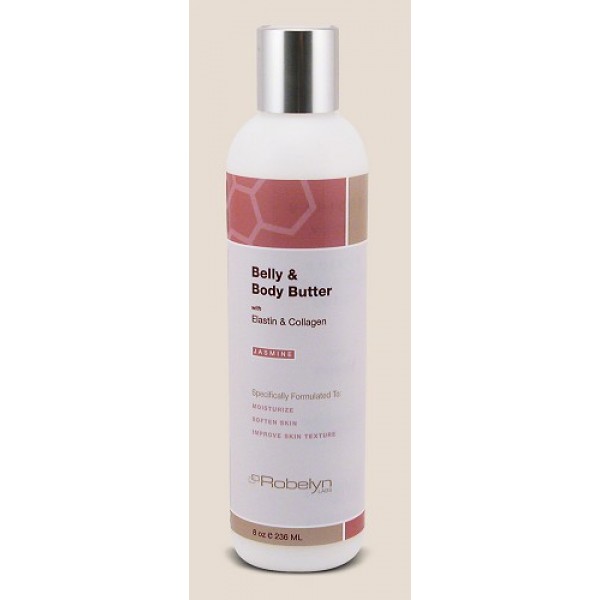 8 oz. -- Our all natural Belly & Body Butter contains highly concentrated amino acids that make it more effective than ordinary creams and lotions.

Our moisturizing Belly & Body Butter is a silky, concentrated, emulsion that refines dry skin to a lovelier, softer texture as it helps protect against moisture loss. This rich, smooth cream is not limited to just the belly; it is an excellent total body moisturizer.

Unique to our cream is that it includes collagen and elastin. Healthy skin needs both substances. Collagen encourages the skin to continue producing moisture while elastin helps to firm the skin. While other companies use liquid elastin extract with 10% amino acids, Robelyn uses a powder freeze-dried elastin concentrate with almost 100% amino acids. Ten times the potency of other elastin or standard body creams, balms, or lotions. It is obviously much more time-consuming and expensive to blend the powder into a cream, but Robelyn feels the results are worth it.

All natural Belly & Body Butter for choosy expectant mothers
Concentrated moisturizer that relieves itchy bellies
Leaves skin feeling supple and silky
Naturally improves overall skin texture
High potency freeze-dried elastin powder aided by soy, and collagen restores the skins elasticity and resilience

About Robelyn Labs, Inc.
Robelyn Labs is a skin care company specializing in safe and effective maternity skin care products. Even though we specialize in the area of maternity our products can be used by everyone – young or old, women or men, any skin type. It is our commitment to providing quality products that enables us to create products that have universal benefits.
Our corporate mission has never changed. We believe that our customers deserve the best and most unique scientifically-proven products that offer positive, real and visible results regardless of manufacturing costs.
Why Robelyn Labs Maternity Skin Care products make a difference:
Elastin3 is the only stretch mark (stria) treatment that combines Argireline, elastin, collagen and soy protein.
All our products are safe for men and women of all ages and skin types.
Our products are not tested on animals.
Our products not only perform as promised, but they are completely safe to use before, during and after pregnancies.
A complete line of products are offered for all your maternity skin care needs.
Item No AR1040