RENEW Multi Collagen Protein Powder - Premium Blend of Hydrolyzed ...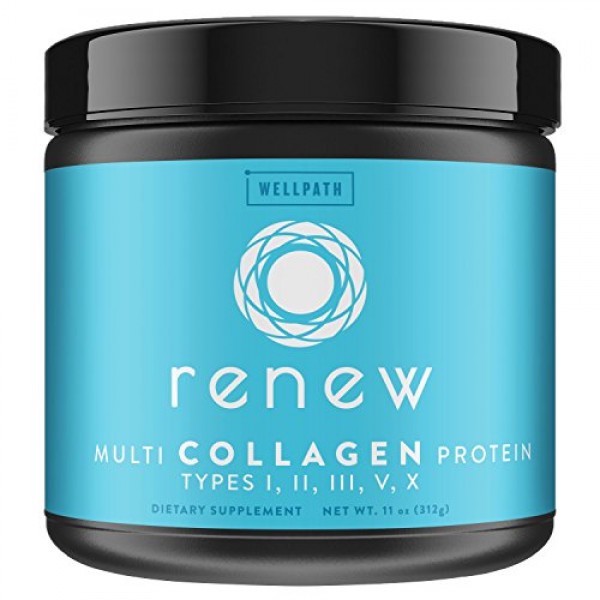 RENEW Multi Collagen Protein Powder - Premium Blend of Hydrolyzed Grass-Fed Bovine, Marine, Chicken & Egg Collagen Peptides | Type I, II, III, V, and X | Vital Supplement For Women & Men | KETO | 11oz
WellPath RENEW is a multi collagen protein that supports the ultimate beauty and health benefits through its blend of several, unique types of collagen peptides.
RENEW IS GREAT FOR:
• Glowing Skin
• Strong hair and nails
• Durable joints and bones
• Healthy digestion
ALL-IN-ONE COLLAGEN SOLUTION:
While contemporary wellness brands like Well+Good and Mind Body Green tout collagen for its ample benefits to your beauty, joints and bones, gut health, and more, many of these great benefits come from different collagen types. Our RENEW multi collagen protein powder combines the benefits of Types I, II, III, V, and X collagen, so you can aim for more health and wellness - all in one!
WHAT'S INSIDE?
• Type I Collagen: Major component of skin, hair, nails, teeth and more; Assists with bone structure and can be found in the gastrointestinal tract
• Type II Collagen: Well-known for helping build cartilage in our body, and beneficial for increasing joint comfort
• Type III Collagen: Assists in the development of blood vessels and tissue in the body's heart, and frequently works in tandem with Type I collagen
• Type V Collagen: Often found on the surface of cells, as well as in hair and women's placenta
• Type X Collagen: Plays a key role in the creation of articular cartilage, which is found at the ends of bones that come together to form joints
REVITALIZE YOUR BEAUTY & HEALTH - We all want to stay young forever, retain our youthful glow, and move with ease. So we created WellPath RENEW, a premium multi collagen protein powder to support long-term beauty and wellness. Expertly formulated with 5 nutrient-rich sources of natural collagen peptides, RENEW supports the ultimate beauty and health benefits as you age - tight skin, vibrant hair & nails, strong joints, and proper digestive health!
WE'RE A BRAND YOU CAN TRUST - Publications such as Vogue, Glamour, Men's Fitness, and the New York Times have endorsed WellPath as a highly-trusted, thoroughly vetted and dependable provider of wellness supplements and personal nutrition. WellPath is backed by an extensive community of experts across a wide range of fields who unanimously support WellPath's truly holistic approach to wellness, lifestyle, and nutrition.
FIVE PURE, DIVERSE COLLAGEN TYPES - WellPath RENEW provides a high quality blend of Types I, II, III, V, and X collagen peptides, offering even more diverse benefits than standard single-type collagen! We source our ingredients from grass-fed, pasture raised bovine, wild caught fish, cage free chickens, and eggshell membrane forming a natural, multi collagen hydrolysate powder packed with nourishing amino acids.
EASY TO USE | PALEO & KETO FRIENDLY - WellPath RENEW's premium protein blend is odorless, unflavored, and easily dissolved, and also fits in both Paleo and Keto diets. RENEW mixes well in all liquids, meals, and baked goods - try it in a smoothie or broth, with coffee creamer, and anything else!
SAFETY & QUALITY ARE OUR TOP PRIORITY - WellPath prides itself on delivering vitamins and supplements at the highest degree of quality while also being completely safe for all consumers. WellPath RENEW is both gluten free and soy free, and derived from clean, well-maintained sources of grass-fed bovine, wild caught marine, and cage free chickens. Our product is manufactured in a GMP-certified and FDA-registered facility, and is proudly made in the USA!