Pondcare Microbial Algae Clean Biological Inhibitor of Green Water...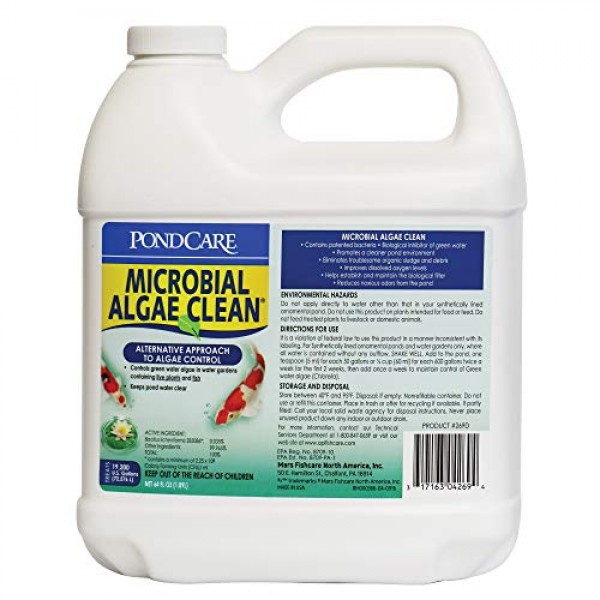 Pondcare Microbial Algae Clean Biological Inhibitor of Green Water, Alternative Approach To Algae Control, 64 oz Bottle
Pondcare microbial algae clean biological inhibitor of green water is the first bacterial algaecide registered with the EPA (environmental protection Agency) for ponds. It controls green water algae, also known as chlorella, in ponds and water gardens Containing live plants and fish. Pondcare microbial algae clean uses a beneficial bacteria to eliminate organic sludge, debris, and noxious pond odors. Pondcare microbial algae clean helps establish and maintain the biological pond filter and improves conditions for fish to receive more oxygen. This algae control Solution is Exclusively for use in synthetically-lined ornamental ponds and water gardens, where all water is contained without any outflow. Will not harm plants or fish. With API pond products, it's easy to keep a beautiful pond. For over 50 years, API has been creating innovative, research-driven solutions that make it easier to care for your pond. API pond pond Treatment Supplies are designed to work in conjunction with each other to provide best results to control algae, promote healthy bacterial growth and help control and cure fish diseases and conditions such as ich and fin rot. They work to provide a safe, hospitable environment for fish such as koi, catfish, perch, goldfish and more. With API, you can spend more time admiring your fish, and less time scrubbing your pond. Make sure to use all products as directed in order to ensure the best results.
Contains one (1) PONDCARE microbial algae clean biological inhibitor of green water, alternative approach to algae control, 64 oz bottle
Controls green water algae in water gardens containing live plants and fish
Eliminates troublesome organic sludge and debris and reduces noxious pond odors
Biological inhibitor of green water to promote a cleaner pond environment
Use twice a week for two weeks then once a week to maintain Green water algae control