Peptide Complex Serum - BEST Anti Aging Serum - Anti Wrinkle Skin ...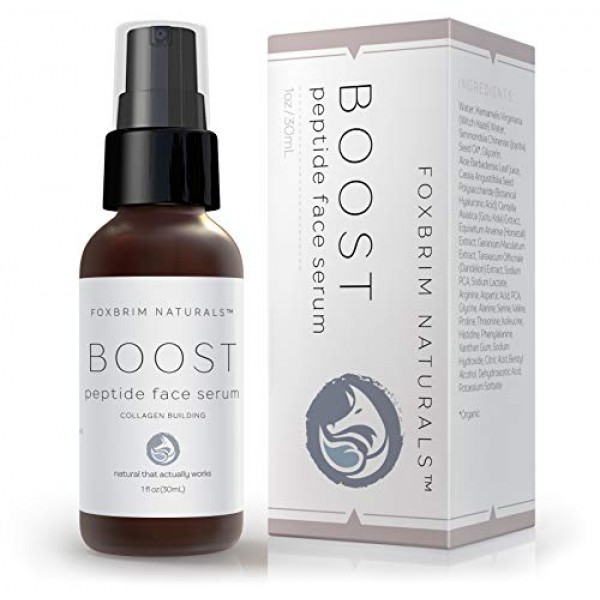 Peptide Complex Serum - BEST Anti Aging Serum - Anti Wrinkle Skin Care - Advanced Delivery - Facial Skin Care - Natural & Organic - Plump, Smooth and Even Skin - For Collagen Production & Optimal Skin Health - Amazing Guarantee 1oz
Foxbrim's Peptide Complex Serum works to effectively create a healthy environment for beautiful skin. Moisturizers with peptides work from the inside out, as the peptides signal the body for additional collagen production to restore a youthful glow, reduce wrinkles, fade fine lines and plump skin. Moisturizing agents Hyaluronic Acid & Vitamin E effectively hydrate while maintaining healthy skin balance. Effectively stimulate collagen (1 and 111) and elastin fibroblasts. Support the healing and repair response in your skin. Aid in increasing skin thickness and refining appearance of wrinkles. Help restore elasticity and firmness to skin. All for youthful, radiant beauty. Enjoy the results brought to you by this advanced delivery system.We utilize only premium ingredients in our natural and organic products. For you that means NO additives, silicones or parabens. Not tested on animals. Only the best natural anti aging and anti wrinkle skin care products backed by our exceptional satisfaction guarantee.Premium ingredients working in concert for your best skin yet. The simple step for youthful beauty.
COLLAGEN BOOSTING - Plant Peptides stimulate collagen production increasing skin thickness & refining the appearance of wrinkles
NATURAL & ORGANIC INGREDIENTS - A face serum with a unique blend of hand-picked Natural & Organic ingredients with refreshing botanical actives - a more natural anti aging cream solution
SATISFACTION GUARANTEED - Each and every Foxbrim product is backed by our amazing guarantee. Your purchase today is risk-free!
SKIN SMOOTHING BENEFITS - Support the healing & repair response in skin - Diminish fine lines - Even skin texture & tone - Restore elasticity & firmness to skin
PROVEN FORMULA - Hundreds of positive reviews & results - Featuring Vegan Plant Peptides, Hyaluronic Acid, Jojoba Oil, Panthenol (Vitamin B5) & Green Tea