Package of 80,000 Wildflower Seeds - Hummingbird and Butterfly Wil...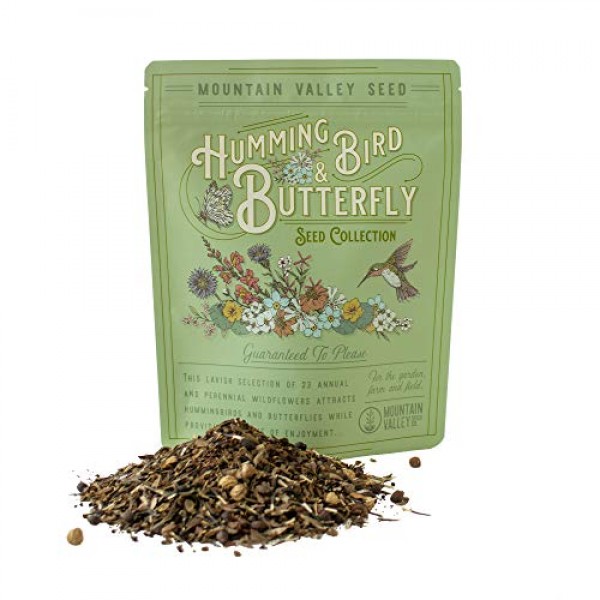 Package of 80,000 Wildflower Seeds - Hummingbird and Butterfly Wild Flower Seeds Collection - 23 Varieties of Pure Non-GMO Flower Seeds for Planting Including Milkweed, Nasturtium, and Forget Me Not
Grow a beautiful, colorful wildflower garden with our National Hummingbird & Butterfly Seed Collection. Includes 23 wild flower varieties such as milkweed plants for monarch butterflies, nasturtium flower seeds, forget me not seeds, and zinnia flower seeds. This wildflower blend grows a season-long charm that lives up to its name attracting hummingbirds to the garden all summer long. Growing insect-friendly flowers is the single most important way you can help bolster your local honey bee population. Wildflower Seed Type: Mix of 23 varieties. 69% Annual, 16% perennial, and 15% biennial. Sow Indoors or Outdoors: Wildflower blends are easy to grow from seed and recommended for direct outdoor sowing after the frost. Mix wildflower seeds with sand to increase visibility during sowing. Broadcast the seed/sand over a weeded area (this package covers up to 250 square feet) and evenly rake and lightly tamp wildflower seeds into the soil. Germination for the 23 varieties occurs between 10 - 30 days. Wildflower seeds may also be sown in the fall and will be dormant until spring. Days to Maturity: Varies. Hardiness Zone: 2-10. Wildflower Growth Habit: Blend of various 24 - 48" tall wildflowers with 12 - 15" spreads of blooms. Soil Preference: Average, loamy, medium-moist, well-drained. Light Preference: Full sun. This mix promises an exciting and unpredictable explosion of summertime favorites perfect for wild and untamed flower beds. Wildflowers are one of the easiest, hardiest, and fastest-growing flowers available to gardeners. Do not use pesticides as they are harmful to bees.