Pack of 4 Full Spectrum E26 LED Grow Light Bulb, 28W Grow Plant ...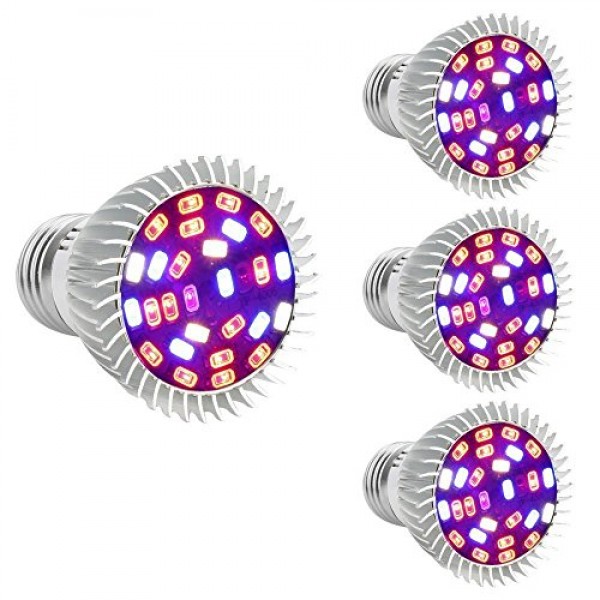 [Pack of 4] Full Spectrum E26 LED Grow Light Bulb, 28W Grow Plant Light for Hydroponics Greenhouse Organic Indoor Plants
Specification:
Item type: grow light
Wattage: 50 watts
Material type: Aluminum
LED working temperature: less than 65°C
Safety certification: FCC, CE, RoHS, UL
Input Voltage: AC 85V~265V
Application:
indoor garden, pot plants, garden, seeding, breeding, farmland, spray plant, greenhouse plants, pipeline cultivation, flowering, etc.
Environmental friendly, low heat, no infrared ray or ultraviolet radiation.
Low power consumption, energy-saving.
High quality and long service life, can light up to 30,000hrs.
Very helpful to the growth of plants, flowers, vegetables, etc.
Indoor led plant grow light, perfect for greenhouse plants, plant enthusiasts, plant breeders, etc.
How does the specific wavelength work:
* Blue(wavelength: 400nm~520nm): Help plants grow.
* Red(wavelength: 610nm~720nm): Help plants sprout and flowering, and it is the key for flowering plants.
* IR(wavelength: 730nm): IR can help plants grow.
* UV(wavelength: 380nm): UV can help plants grow.
* Best lighting time: 8-12hrs/day
Attention:
We can customize LED light for you based upon your request.
Esbaybulbs LED Lighting Co. Ltd.
is engaged in the research and development, production and marketing of LED commercial lamps. The mission of company is to offer customers with the best product, pre and after service. You are always covered by our 12-Month unlimited warranty when you purchase Esbaybulbs products. Contact us 24/7 if you are not satisfied for any reason!