Pacific Baby Inc. Narrow Neck Silicone Teats - 3 packs of 2 each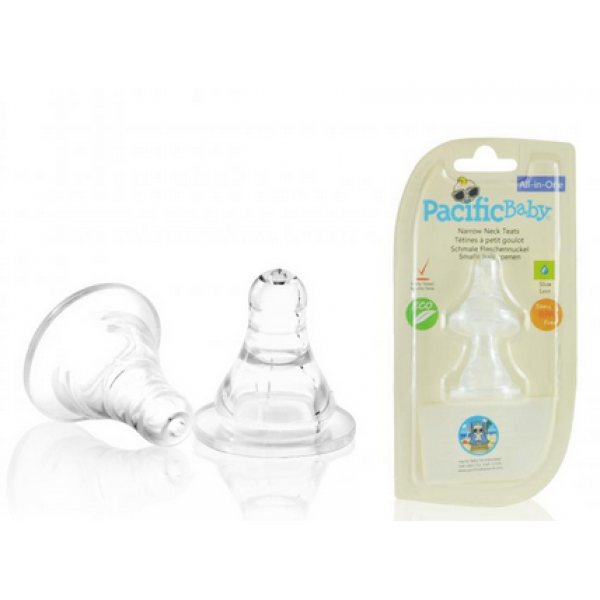 SAVE when purchasing 3 packs of 2 each
For use with Pacific Baby thermal All-in-One bottles
Naturally shaped teat makes it easier to transition from breast and bottle feeding
Offers a faster flow for older babies
Available in slow, medium, and fast flow
These silicone teats are for use with Pacific Baby's All-in-One plastic baby bottle. Pull the silicone teat through the bottle ring until the brim of the teat fits snugly against the inner top of the bottle ring. Your teat is then ready to be attached to the bottle and used. The flow rate describes how easy it is for the milk or liquid to pass through the opening of the teat when baby starts to suck. Pacific Baby uses three flow rates: slow, medium and fast. Slow is ideal for most newborns, medium is generally good from about 3 months, and fast is generally good from about 6 months. However, no baby is the same, so you may have to try a few teats at different times to get the best fit for your baby.
Remember that breast milk is best for your baby. When breast feeding is not an option, you can use this product for expressed milk, formula, or even juice.
Warnings:
Always test temperature of liquid before feeding baby.
Do not use microwave to heat milk or formula, as microwave heating may produce localized high temperatures.
Do not attempt to enlarge the teat hole, and test the teat before each use by pulling in all directions. Discard if teat shows any signs of wear or tearing.
Do not put child to bed with bottle.
Always use this product with adult supervision (accidents have occurred when babies have been left alone with drinking equipment due to the baby falling or if the product has disassembled).
Never use feeding teats as a soother.
Continuous and prolonged sucking of fluids will cause tooth decay.
Keep all components out of the reach of children.
Clean before each use.
Do not leave a feeding teat in direct sunlight or heat, or leave in sterilizing solution longer than recommended, as this may weaken the teat.
Wash your product in warm soapy water and boil the teat for 5 minutes before 1st use to ensure hygiene.
Do not allow to come into contact with solvents or harsh chemicals as this could damage the product.
This product has been extensively tested against and is in compliance with safety standards imposed by the major regulatory agencies in both the United States and Europe.
Item No PCI-451