Organic Indoor Herb Garden Kit by Back to the Roots - Non-GMO Basi...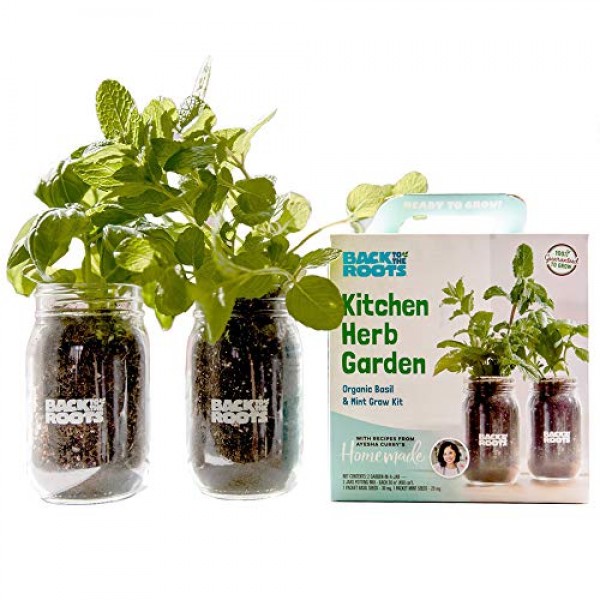 Organic Indoor Herb Garden Kit by Back to the Roots - Non-GMO Basil and Mint Plants Starter Kit with Organic Seeds, Organic Soil, Biochar, and an Ayesha Curry Recipe Book
What began as curiosity for urban farming has turned into a passion to reconnect families to food through our indoor gardening kits. Our Back to the Roots Indoor Herb Basil And Mint Garden Kit is no exception, offers a unique way to bond over herbs you can grow year round!
Each indoor herb starter kit comes with all the materials you'll need to grow basil and mint such as an organic plant-based soil, organic seeds, access to a free online STEM curriculum for kids, and an Ayesha Curry recipe packet for ingredients you can try out. On top of all these, the moisture-balancing biochar included in the herb set indoor kit helps you avoid food drying out, drowning, or falling part. There'll be no need for chemicals, transplanting, or messy drainage holes while you grow herbs indoors.
The Back to the Roots basil and mint starter garden kits are made in the USA and backed by our 100% Guaranteed to Grow promise. If it doesn't grow as described, we're happy offer replacements, refunds, or refill kits.
Our indoor herb garden kit has been ranked as a top gardening and most unique gifts to give people of all ages. We'll happily wrap the basil and mint growing kit in beautiful packaging and ship it ready for gifting and instant use.
100% ORGANIC SEEDS AND SOIL: The soil and seeds of our indoor herb garden starter kit are not exposed to chemicals nor cross-contaminated during harvesting which avoids issues on germination and plant growth
EVERYTHING YOU NEED: Each Indoor basil and mint growing kit comes with organic plant-based soil, organic seeds, access to a free online STEM curriculum for kids and Ayesha Curry recipe packet
NO MESS OR FAULTY CONTAINERS: Our biochars not only avoid the issue of your foods drying out or drowning, but there'll be no risk of falling apart; No chemicals, no transplanting, and no messy drainage holes while you grow herbs indoors
PERFECT FOR ALL AGES: This indoor herb garden has been ranked as one of the top unique gardening gifts to give to people of all ages, wrapped in beautiful packaging and ready for instant use
GUARANTEED GROWTH: Each Back to the Roots basil and mint starter garden kit is made in the USA and backed by our 100% Guaranteed to Grow promise - if it doesn't grow as described, we offer replacements, refunds, or refill kits