Life Extension Advanced Curcumin Elite Turmeric Extract, Ginger & Turmerones, 30 softgels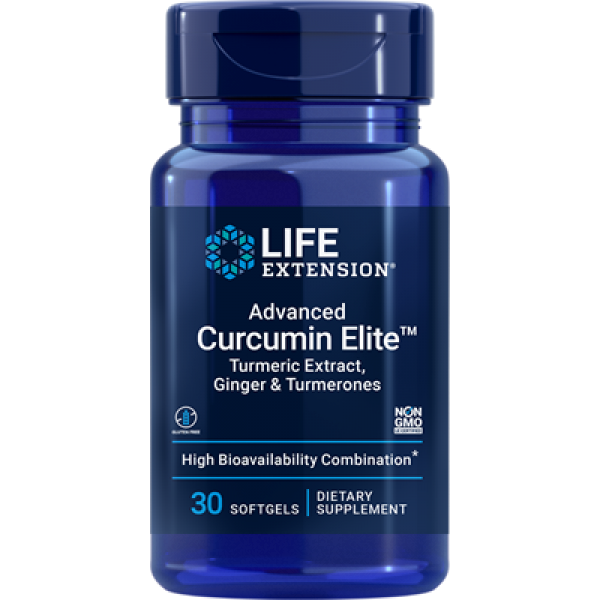 Curcuminoids are the compounds in curcumin that help inhibit inflammation to support joint and vital organ health, promote healthy immune response, encourage heart health and provide potent cellular protection against free radicals. But the total amount of free curcuminoids delivered by standard curcumin is low.We have spent years searching for a superior, highly bioavailable form of curcumin, one that delivers maximum health benefits so you can thrive. To do this, we needed to find a technology that protected curcuminoids during digestion and delivered more free curcuminoids per dose. Fenugreek helps inhibit conjugation Once in the body, curcuminoid compounds undergo conjugation, a normal chemical reaction where one compound attaches to another. This is problematic because conjugated curcuminoids do not necessarily provide the same health benefits as non-conjugated ones.1,2 Advanced Curcumin Elite protects curcuminoids from conjugation by combining curcumin with galactomannans, a type of fiber derived from fenugreek seeds. Clinical and pre-clinical data shows that doing so produces 45.5 times more bioavailability and broader tissue distribution of free curcuminoids than unformulated curcumin.3,4 In a clinical study, more than 70% of total plasma curcuminoids were still in their free form five hours after ingestion.4 That translates into more comprehensive whole-body health support from the curcumin supplement. Turmerones and ginger We've added several plant compounds to Advanced Curcumin Elite to enhance health benefits of this supplement. Standardized ginger compounds and turmerones from turmeric oil complement curcumin's ability to help promote a healthy inflammatory response and enhance curcumin's other health benefits as well.5,6 Superior curcumin, responsibly sourced The total amount of free curcuminoids delivered by standard curcumin (such as the one in our previous formulation) is low. So, we've made the switch to Advanced Curcumin Elite in order to provide our best possible curcumin supplement to our customers. It is also worth noting that curcumin in Advanced Curcumin Elite is sourced from a multitude of responsible farming collectives in India. Advanced Curcumin Elite is then made via FenuMAT, a patented, environmentally friendly, water-based extraction technology (no solvents or chemicals) during which it is combined with fenugreek fiber. Health benefits of curcumin Helps inhibit inflammatory factors to support joint and organ health—Curcumin extract helps inhibits inflammatory factors to promote joint and vital organ health.7,8 Curcumin also inhibits the metabolism of arachidonic acid, as well as the activities of cyclooxygenase, lipoxygenase and cytokines to promote a healthy inflammatory response.9-11 Brain & immune system health—Curcumin extract inhibits inflammatory factors in the body to promote immune system health.12-14 Curcumin can also benefit your mind: Studies suggest that curcumin supports healthy brain function and offers neuro-protective benefits.9,15-17 Digestive, joint & pancreatic health—Evidence suggests that curcumin helps promote healthy bowel function and joint health.18-21 Curcumin also supports healthy pancreatic function by encouraging pancreatic islet health.9,22 Cellular support against free radicals—Curcumin provides cellular protection against free radicals.23-25 Curcumin also supports healthy cholesterol levels already within normal range and helps inhibit inflammation to promote cardiovascular health and more.9,26
Supplement Facts
Serving Size 1 softgel

Amount Per Serving

Curcumin Elite Proprietary CGM Blend

500 mg

providing 40% curcuminoids (200 mg) and 3% turmerones (15 mg) [from Turmeric (rhizome)], 30% galactomannans (150 mg) [from Fenugreek (seed)]
 
Gingerols [from Ginger CO2 extract (root)]
60 mg

Turmerones [from turmeric extract oil (rhizome)]

60 mg

Other ingredients: extra virgin olive oil, gelatin, glycerin, purified water, sunflower lecithin, carob color, beeswax.
Non-GMO
Dosage and Use
Take one (1) softgel daily, or as recommended by a healthcare practitioner.
Warnings
KEEP OUT OF REACH OF CHILDREN
DO NOT EXCEED RECOMMENDED DOSE
Do not purchase if outer seal is broken or damaged.
When using nutritional supplements, please consult with your physician if you are undergoing treatment for a medical condition or if you are pregnant or lactating.
To report a serious adverse event or obtain product information, contact 1-866-280-2852.