Nualgi Ponds - Natural Algae Control, Water Clarifier & Algaecide ...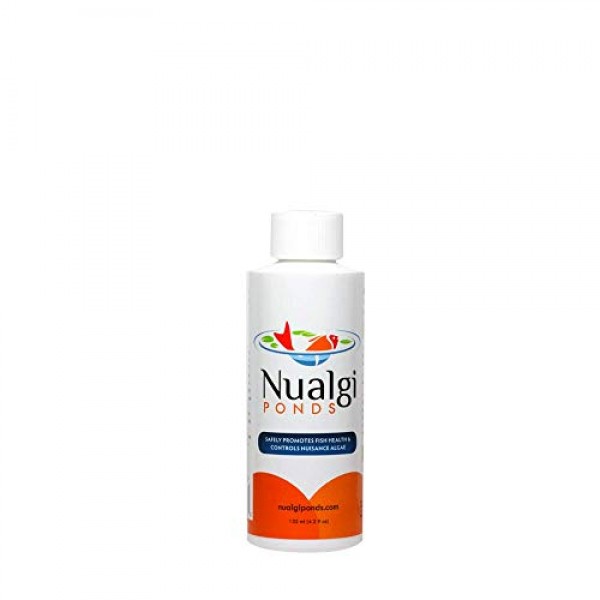 Nualgi Ponds - Natural Algae Control, Water Clarifier & Algaecide Alternate - 100% Safe for All Fish, Plants & Animals (1 x 125ml)
(125ml Treats 120,000 US Gallons / 454,248 Liters) Nualgi Ponds is a natural alternative to algaecides & other toxic water treatments used to control & remove pond algae. Our innovative approach to natural pond care and algae control works by restoring balance to your pond's Nitrogen Cycle and supercharging your pond's bio-filter from the ground up! BENEFITS: Increases oxygen levels & improves water quality & clarity to reduce & control pond algae and foul odors. Nualgi promotes the health of fish and plants while keeping water crystal clear. Enjoy your new habitat and show off your pond as your fish become more active and your plants gain more color. WHAT IS NUALGI? Based on Over 15 Years of Research, Nualgi is the fourth generation of a patented nano-silica-based micro-nutrient supplement for all types of ponds, lakes & water gardens. It is based on 9 years of lab research and 8 years of field research and is meant for application in commercial and municipal water management. The Nualgi formula specifically helps pond owners improve water quality and manage algae on a much smaller scale. HOW DOES IT WORK? Within 3-5 hours of applying Nualgi Ponds, Diatom algae (the good kind!) will bloom. The diatom algae bloom out competes with Nuisance Algae for CO2, N, P and other nutrients, thereby causing the bad algae to die off. It then locks away some of the harmful nutrients in the new bio mass that is consumed as live food by fish and zooplankton. By kick-starting this natural process, Diatom Algae leaves Nuisance Algae behind in the race for nutrients, thus starving and eventually eliminating the bad algae from your pond!
ELIMINATES NUISANCE ALGAE NATURALLY - Nualgi Ponds is the outcome of 15 years of rigorous research that helps in cleansing pond water of nuisance algae naturally. Within few hours of applying Nualgi Ponds, Diatom algae blooms (beneficial algae), which further vies for carbon dioxide, nitrogen, phosphorous and other nutrients, thereby causing nuisance algae to die off as a result of non-availability of nutrients.
SAFE FOR FISH, PLANTS, AMPHIBIANS, BIRDS & PETS - Unlike other algaecides, Nualgi Ponds is completely safe for your pond as well as all the organisms present in it. The growing diatoms become food for zooplanktons, which in turn become live food for fish, which ultimately enhances their health.
IMPROVES WATER QUALITY - Nualgi Ponds works at the microscopic level. The exponential growth of diatoms provides oxygen to bacteria who in turn clean up the waste products of fish and leftovers. This natural process helps clean ponds and make their water sparkling without letting the water bodies emit any bad odor.
FAST ACTION AND HIGHLY EFFICIENT - Nualgi Ponds starts the process of cleaning almost immediately. Within just 3-5 hours of applying, the diatoms begin to develop, kick-starting the clean-up drive. Besides, 1ml of Nualgi Ponds is sufficient to clean 1000 gallons of water. This makes it highly efficient and easy to use.
ENSURES HEALTHIER HABITAT AND VIBRANT COLOR IN YOUR POND - As Nualgi Ponds removes Nuisance Algae, it naturally provides fish a healthier habitat for living. When free from unwanted and nutrient-sucking algae, fish get more nutrients, which makes them more active and livelier. Besides, a cleaner pond will appear vibrant and colorful, thereby bringing joy to viewers.