Nisska NYC School Lice Detection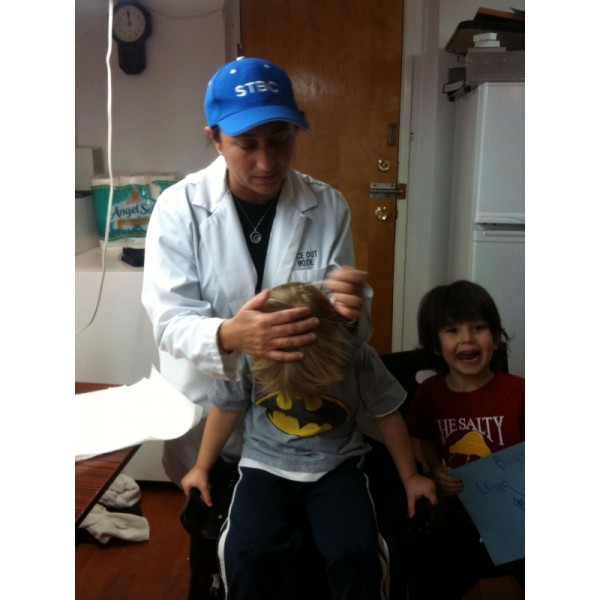 The price is $4 per child with a minimum of 100 children!
It's that time of year again.
The kids are returning home from vacation and summer camps, preparing for a new school year.
One thing they are bringing home with them along with new friends and fresh tans is lice.
Pesky, itchy, bothersome and irritating, no child or parent wants to spend the last days of summer combing out and battling lice and nits.
Here is where we step in.
Rated among the most highly professional and effective lice removal service in New York, we provide quick and painless solutions.
With ten years of experience behind us, you can rely on our system of organic, all-natural and safe lice/nit removal to rid your head and home of lice and nits.
Give us an hour of your day, we will give you a clean head, checked and re-checked.
In addition, we will teach you preventative care and home cleanliness so that you don't find yourself living the lice nightmare again.
Our professional beauticians use only the best in lice combs, German-made Nisska combs, which can be purchased on our site as well.
We offer same or next day service.
School Lice Detection Service
Having your child come home from school bringing not just homework but also lice is a nightmare almost every parent may have to deal with. Our school lice detection service is one of the best preventative solutions every school should use. Our qualified beauticians will conduct a professional screening of every child to make sure they aren't carrying and spreading lice and nits.
With this process, we will send a team out to your location where they will set up a thorough screening for nits and lice.
When you place the order for this service, you will receive an e-mail confirmation.
Within a few hours we will with contact you for all the necessary information and then schedule a time at your convenience to send out our professional lice detection team.
We can process up to 1,500 kids a day.
This service can also be used for day camps and sleep-away camps.
The detection service is offered as a group rate based on a minimum of 100 kids and priced at the low rate of $4 per head.
The detection service is for screening and early prevention only, not nit and lice removal.
"We have worked with Rozie and NYC Lice Removal for the past 2 summers, and have had a terrific experience. Rozie and her team are exceptionally thorough, and check all 500+ campers and staff efficiently and carefully."
Best,
Genna
" NYC Lice Removal was a quick and efficient in helping our camp handle a lice
breakout in our summer camp setting. Rozie was great at making
herself available to talk with parents and check and clean families
within our community. She helped to educate our staff and parents
about lice removal and helped to make sure that our campers could
return to camp!"
Shara Perlman, Camp Director
"After seeing Rozie, I knew exactly what to do (and what not to do) to make sure me and my house were lice free. She not only put my mind at ease, she saved me countless hours and dollars of unnecessary cleaning, decontaminating, etc.
She was a real life saver!!"
Thanks Again !!
Lorna
"I recently found myself in a de lousing chair, with an itchy head of thick long hair. NYC Lice Removal Service is a business offering several services. They use a German imported metal comb, a reassuring attitude and a TV to help you zone out the experience. Their technique is conditioner and baking powder on dry hair to immobilize bugs and stiffen strands. I emerge two hours later thankful I didn't do my first all natural de-lousing myself, but armed to tackle the rest of my short haired family. With a baby at home, a shallow sink and not a lot of faith in my ability, I'm glad someone else had the patience. I need a follow up she said--this was a moderate case. Ugh.
The all-natural head lice removal by NYC Lice Removal is a flat fee. Once a parent comes to her, they shouldn't need to come again; they teach parents how to comb out lice and nits on their own."
-Jennifer
Item No NYCLice1233552