Natures Way Bird Products CWF19 Cedar Hopper Bird Feeder with Sue...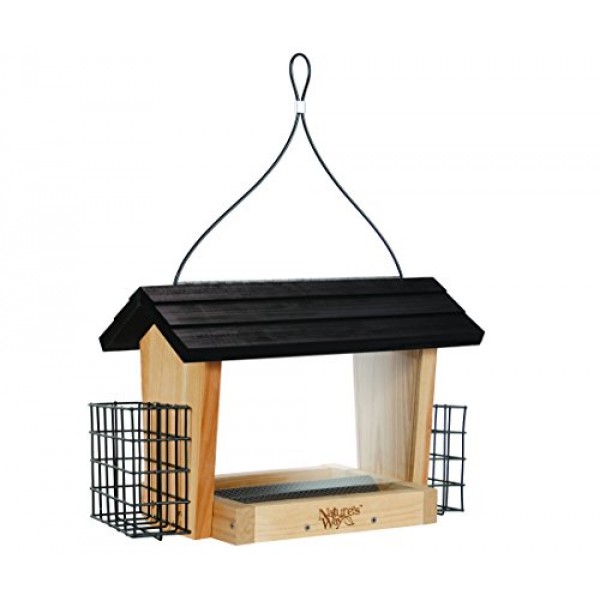 Nature's Way Bird Products CWF19 Cedar Hopper Bird Feeder with Suet Cage, 6-Quart
Nature's Way Bird Products CWF19 Cedar - 6QT Hopper Bird Feeder with Suet Cages is made with premium cedar so it's naturally insect and rot resistant; ours is treated with a water-based, protective stain. It's designed to accommodate 6 full quarts of various seed mixes including sunflower seeds, mixed seeds and peanuts, along with two vinyl-coated wire mesh suet cages. This particular feeder design offers a wide opening for easy filling and no spilling, then diverts seed to the feeding area, giving birds easy access. The durable, rust-free stainless steel Fresh Seed Tray easily lifts out for cleaning and keeps seed fresh - preventing mold and bacteria growth - by allowing water to drain and air to flow freely. Extra spacing accommodates large birds like Cardinals and Jays. It attracts Cardinals, Grosbeaks, Titmice, Nuthatches, Chickadees, Finch, Jays, Juncos and Woodpeckers. The stay-clear, crack resistant weather shield and windows allow you to see the level of seed in the feeder and see through the feeder for better bird viewing. Including the vinyl-coated steel hanging cable, all hardware is rust-free and covered by a 5 Year Manufacturer's Warranty. Our innovative design technology is combined with superior quality for ease-of-use and long-lasting durability.
Crafted from Insect and Rot Resistant Premium Cedar with a Water-Based Protective Stain
The Rust-Free Tray Lifts Out Easily for Cleaning, Preventing Mold and Bacteria
Design Allows Birds Easy Access to Seed and Suet - Keeps Seed Fresh by Allowing Water to Drain and Air to Flow Freely
Allows Extra Spacing for Large Birds and Attracts Cardinals, Grosbeaks, Titmice, Nuthatches, Chickadees, Finch, Jays, Juncos and Woodpeckers
Also Includes a Vinyl-Coated Steel Hanging Cable and Rust-Free Hardware