Mysoldius Universal Solar Charger with iPod Kit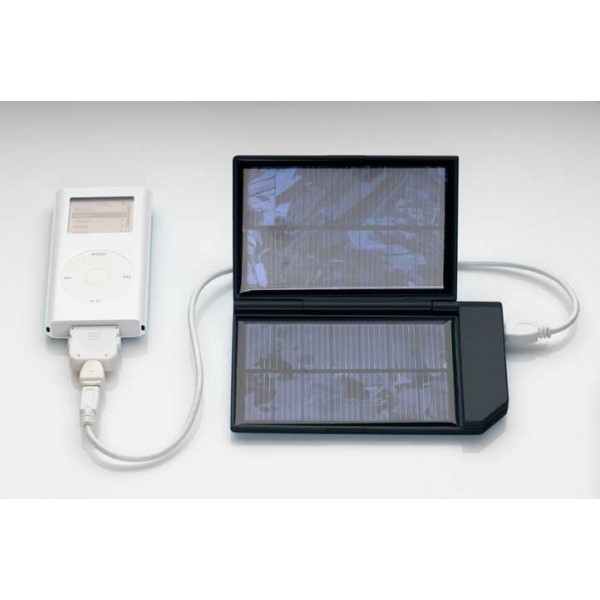 Soldius1 Universal Solar Charger with iPod Kit
Your busy lifestyle takes you almost anywhere. From board rooms to broad mountain faces, from turnpikes to over-night flights and three-day hikes. Now, thanks to the Soldius1 Universal Solar Charger and the power of the sun, the mobile electronic devices you depend on can stay charged wherever you go.
The Soldius 1 is the size of a checkbook, making it small and light enough to fit into a shirt pocket. The power from the sun is transferred directly to your handheld device in the most efficient way possible, allowing you to charge your cell phone in 3-4 hrs (charge times vary depending on sun exposure and device). The standard cable end will fit mini USB ports and comes with tips for many other devices.
The Soldius1 with iPod Kit includes the Soldius1, White mini USB cable and 2 interchangeable iPod adapters compatible with Apple iPod, iPod nano, iPod Mini, iPod Shuffle. Also compatible with Blackberry.
*Currently model available is white*
FAQs
Does the Soldius1 work behind glass?
Yes. Provided you have sunlight.
Does it work anywhere?
Yes. Provided you have sunlight.
Do I need "direct" sunlight?
No. It will work on cloudy days under bright conditions. Charge time varies depending on cloud cover.
How long does it take to charge?
Average time to fully charge a cell phone indirect sunlight is 3-4 hours. Roughly the same
charge time as a car charger.
How powerful is it?
The Soldius1 unit generates 6.58 volts @ 320 mA.
How do I know it's working?
Your device will indicate that it is charging just like it would if you were paying for the power from a wall outlet.
Will the Soldius1 work on laptops?
No. A Laptop version is currently in development however.
How long does the charge last?
Battery life varies depending on the device.
What happens if it breaks?
The Soldius1 charger is covered by a 1 year warranty for any manufacturing defect.
Does it ever wear out?
The Soldius1 solar charger is good for 90,000 charges. That equals 5 charges a day, 365 days a year, for 49 years.
Do you need sunlight or does the Soldius1 work with other light sources? Does it take more time then? If so: how long does it take?
You need sunlight; the time varies by device but usually takes the same amount of time as it would to plug it into your car charger (2-4 hours).
Is the system waterproof? Can it stand a little bit of rain for instance?
Yes, it can withstand rain and splashing. Submerging is not recommended.
The connection between body and cable, is it a weak spot as it is seen in many electronic products?
We use Hitachi cables, which are the best on the market; they have a flex end,
which withstands bending very well.
Please read the following instructions carefully to ensure your safety while using the product and to prevent damage to the product.
Do not dismantle, disassemble or alter the product.
Do not expose the unit to excessive moisture, heat or flames.
Never submerge the product in water.
Do not connect the product to devices that are not listed as compatible on the mysoldius.com web site.
Avoid dropping or hitting the body or components, as doing so may damage them.The manufacturer does not accept liability for problems encountered due to the misuse of its products.
About mysoldius
Who Is Soldius?
Soldius b.v. of Apeldoorn Holland, develops, manufactures and distributes aesthetically-pleasing solar charging products of the highest possible quality. Our use of robotic manufacturing processes ensures consistent top-quality construction. We stand behind our products with a recognized reputation of excellence.
Take Charge to Make Charge.
Headquartered in Apeldoorn, Holland, privately held Soldius is the brainchild of former business competitors Gert Goossens, Adwin Plinsinga and Norbert Verduijn. This highly ambitious trio of entrepreneurs bonded over their broad knowledge base, wealth of professional experience, and one shared vision: that consumer-use solar chargers will become the dominant interface for mobile devices.
Goossens, Plinsinga and Verduijn, along with strategic experts in solar technology, have formed a technical dream team capable of achieving the company's short-term and long-term goals. Today, the company mission is to make Soldius the industry leader for developing the superlative solar-powered products. By combining 'bleeding edge' technology with sleek, modern design and an environmental consciousness, Soldius will deliver an enhanced mobile experience to customers around the globe. The sun is already shining on their efforts.
MSPT, The Genesis of Soldius Technology.
Designed to maximize solar panel output to meet the power requirements of many different mobile devices, Maximum Solar Power Tracking® (MSPT®) is a unique combination of patented and patent-pending solar technology developed by Soldius scientists.
Over the course of two years, the Soldius engineering team has worked tirelessly to refine the MSPT® process, which sets new standards for solar charging technology. Soldius is presently involved in solar charging developments with leading manufacturers of laptops/notebooks, PDA's, MP3 players, digital cameras and other portable devices.
mysoldius Mission Statement
As individuals and as business people, we have a responsibility to use our personal and natural resources wisely. We incorporate this responsibility into our daily decision-making, and we apply it to each other and to the world in which we live because it is the integral means of achieving our two primary goals.
Socially, Soldius is committed to improving the quality of life locally, nationally, internationally and environmentally.
Economically, Soldius will develop, produce and market only the highest quality and most technologically sound solar-powered products. In doing so, it will operate the company on a solid financial basis of profitable growth, so as to increase value for its shareholders and expand opportunities for development and career advancement for its employees.
Soldius1 Product Compatibility Data Sheet
The Soldius1™ Universal Solar Charger is fully solar-powered and is compatible with the following products:
iPods: Other MP3 Players:
iPod U2 Motorola ROKR mobile phone/MP3 player
iPod Mini Creative Technology Zen Micro
iPod Shuffle PDAs: Blackberry
iPod Nano GPS: Garmin USB Enabled
Phones:
Nokia
N90; 770; 1100; 1101; 1221; 1260; 1261; 1600; 2100; 2115i; 2116i; 2260; 2270; 2285; 2300; 2600; 2650; 2651; 3100; 3120; 3200; 3205; 3210; 3220; 3230; 3300; 3310; 3330; 3361; 3410; 3510; 3510i; 3520; 3560; 3570; 3585i; 3586i; 3587i; 3588i; 3589i; 3590; 3595; 3600; 3620; 3650; 3660; 3620; 3650; 3660; 5100; 5140i; 5140; 5210; 5510; 6010; 6015i; 6016i; 6019i; 6020; 602; 6030; 6060; 6100; 6101; 6110; 6111; 6170; 6200; 6210; 6220; 6225; 6230i; 6110; 6111; 6170; 6200; 6210; 6220; 6225; 6230i; 6230; 6250i; 6250; 6255i; 6260; 6270; 6280; 6310i; 6310; 6385; 6510; 6560; 6585; 6590i; 6590; 6600; 6610i; 6610; 6820; 6822; 7110; 7200; 7210; 7250; 7250i; 7260; 7270; 7280; 7600; 7610; 7650; 7700; 7710; 8210; 8270; 8310; 8800; 8801; 8850; 8890; 8910; 8910i; 9110; 9110i; 9210; 9290; 9300; 9500.
Samsung
SGH-A200 SGH-A300 SGH-C100 SGH-A400 SGH-A500 SGH-A800 SGH-D100 SGH-D410 SGH-D500 SGH-E100 SGH-E105 SGH-E310 SGH-E330 SGH-E400 SGH-E600 SGH-E700 SGH-E710 SGH-E800 SGH-N200 SGH-N200C SGH-N400 SGH-N500 SGH-N600 SGH-N620 SGH-P400 SGH-Q200 SGH-Q300 SGH-R200 SGH-R210 SGH-S200 SGH-S300 SGH-S300m SGH-S500 SGH-T100 SGH-T400 SGH-V100 SGH-V200 SGH-X100 SGH-X450 SGH-X460 SGH-X600
Sony-Ericcson
A2618s; A2628; F500i; K500i; K700i; P800; P900; P910i; R310; R320s; R380s; R600; S700i; T100; T105; T200; T20s; T230; T28s; T290i; T29s; T300; T310; T39s; T600; T610; T630; T65; T66; T68; T68i; V800; Z1010; Z200; Z290i; Z500i; Z600.
Siemens
A52; A55; A60; A65; C55; C60; C62; C65; CF62; CFX65; CX65; R600; L55; M55; M60; M65; MC60; S55; S65; SF65; SK65; SL55; SL65; SX1.
Motorola
A835; E398; E550; T280; T720; T720i; V300; V500; V525; V550; V60; V600; V60i; V620; V66; V66i; V70; V80.


Item No AR651