MyLifeUNIT Plastic Small Watering Can for Indoor Plants, 1/2-Gallo...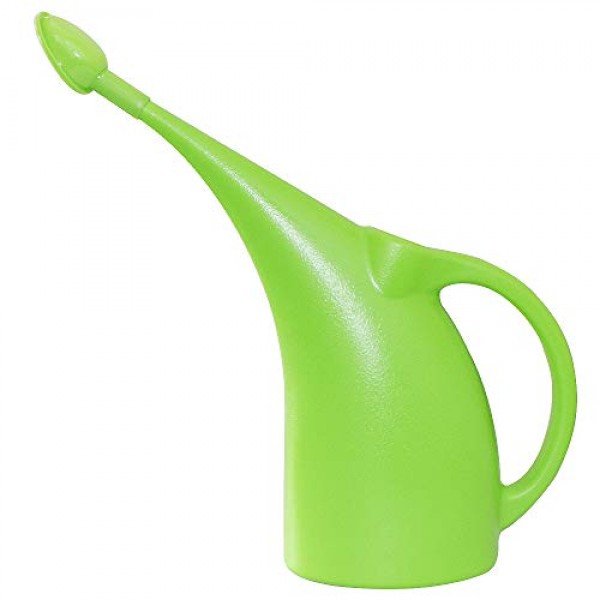 MyLifeUNIT Plastic Small Watering Can for Indoor Plants, 1/2-Gallon with Shower Head
MyLifeUNIT plant watering can is equipped with a shower head, which can be removed and installed for your convenience. The watering nozzle can be used according to your needs.
The flower watering can is made of environmentally-friendly new materials, with the characteristics of non-toxic, odorless, safe, the product is thickened and the quality is high.
There is no cover kettle, the size of the mouth 1.6 inch/4 cm is reasonable, the water is not easy to spill, you can add water at any time.
The handle accords well with ergonomics, which is comfortable to hold, not slippery and more convenient to use.
The size of the water can is 7" wide x 13" high (177 mm x 330 mm), accommodating 64 oz (1/2 gallon) of water.
Matching Watering Head: The watering pot fit well with the detachable standard shower head, which make you trivially easy to drain and hardly leaks any water during irrigation. Whether you want to water large or small flowers, it proves very suitable.
High Quality Materials: Made of high-quality resin, plastic watering can has strong bearing capacity. It features durability which is not easy to be broken.
Coverless Design: The water inlet has no cover design, it is easy to replenish water, and the water won't splash randomly. The reasonable handle design makes the grip feel comfortable, so you won't feel tired after using it.
Multi-purpose Watering Can: You can remove the watering head when watering the roots of plants. You can install the watering can head when irrigate the leaves of the plant or a large area.
Reasonable Size: Approximately 7" wide x 13" high, accommodating 2L/64 oz (1/2 gallon) of water. The size of watering nozzle diameter is about 0.4 inch/1 cm, and the watering can head has a water outlet area of 1.6 x 2.4 inch (4 x 6 cm), which is suitable for watering plants indoors and outdoors.