MIXJOY 315W CMH CDM Full Spectrum 3100K Ceramic Metal Halide Grow ...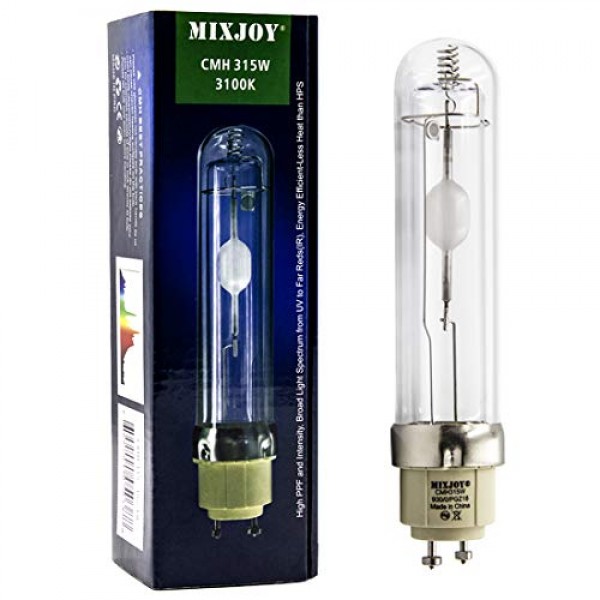 MIXJOY 315W CMH CDM Full Spectrum 3100K Ceramic Metal Halide Grow Light Bulb, High Lumen Efficiency and Low Head Grow Lamp for Flowering Plants
Professional 315 Watts Ceramic Metal Halide / Light Emitting Ceramic grow light bulbs for commercial crops and home growing;
Specifically designed for maximal growth light and the highest PPF per watt available for professional horticultural applications;
Good lumen output for high PAR values
Super average long life up to 20000 hours, high lumen output, low energy consumption
Unique Open Rated Lamp construction reduces radiant heat from the arc tube
Model : 315W
Base Type : PG2-18
Operating voltage :100V
Material : Ceramic+metal
Installat : Embedded
Color temperature : 3100K
Output : 120 Lm/W
Rated Life: 20,000 hours
APPLICATIONS:
1) Efficient growth lighting in green house
2) Day prolonging additional lighting of exterior plant cultures
3) Helpful to plants growing, horticuluture and hydroponics industries.
FULL SPECTRUM LIGHT OUTPUT: This CMH 315W deliver 92 CRI, 36,000 initial Lumens, and 1.95 PPF (photosynthetic photon flux), Nourishes plants with full spectrum light and stimulates resin production with UV far-red spectra
HIGH QUALITY: CMH grow lamp is made from high quality PCA envelopes for enhanced lumen output and optimized spectra, Initial PAR rich 570umol/s, Optimal for Flowering and Vegetable as well. Plugs into PGZ18 lamp socket
LOW HEAT GENERATED: MIXJOY's 3100K CMH Lamps run at extra low operating temperatures, and quartz glass makes it safe for using in open and enclosed fixtures
HIGH LUMEN MAINTENANCE: This CDM bulb is rated for high 90% lumen maintenance at 8,000 hours and 85% at 20,000 hours
LONG LIFETIME: 15000 hours lifespan and 1 year warranty, great for indoor gardening or supplemental greenhouse lighting. If you have any concerns about the packaging problem, please feel free to contact us. We will try our best to solve your questions in order to provide high quality service and great purchasing experience.