Micro-Mats Hydroponic Grow Pads - For Organic Production - 10 Pack...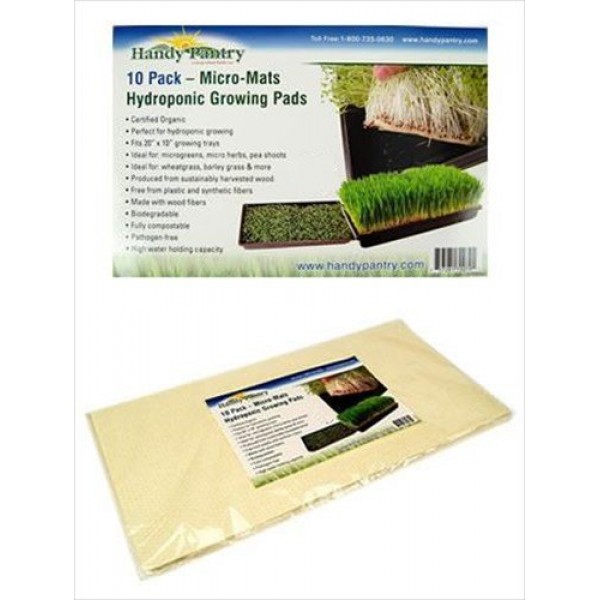 Micro-Mats hydroponic growing pads. Made from biodegradable wood fibers, these highly absorbant pads provide and excellent medium to grow wheatgrass, barley grass or microgreens without soil. Fits 20" x 10" trays. Product approved for use in organic systems - Organic Farmers & Growers Standards.
Micro-Mats from Handy Pantry are perfect for those looking to grow wheatgrass, barley grass, microgreens, or other plants, without the hassle of dealing with soil. These mats are made from sustainable harvested wood fiber that is fully compostable.
Available in packs of 10, 50, 100, 200, and 500 mats, they fit easily into 20" x 10" trays, and allow you to grow all your favorite grasses and microgreens with the same methods you would grow them in soil. Being made of porous wood fibers, these mats absorb much more water than traditional hydroponic mats, which provides a much more consistent environment for growing seeds.
Pad size may vary slightly and will expand when wet.
Pack of 10 - Fits 20" x 10" growing trays - Biodegradable - Fully compostable
Perfect for Hydroponic growing - Produced from sustainably harvested wood - Made with wood fibers
Ideal for: microgreens, micro herbs, pea shoots, wheatgrass, barley grass, & more
Free from plastic and synthetic fibers - Pathogen-free
High water holding capacity - Product approved for use in organic systems - Organic Farmers & Growers Standards