Laa PowerJet 600 Fountain/Waterfall Pump Kit for Ponds Up to 12...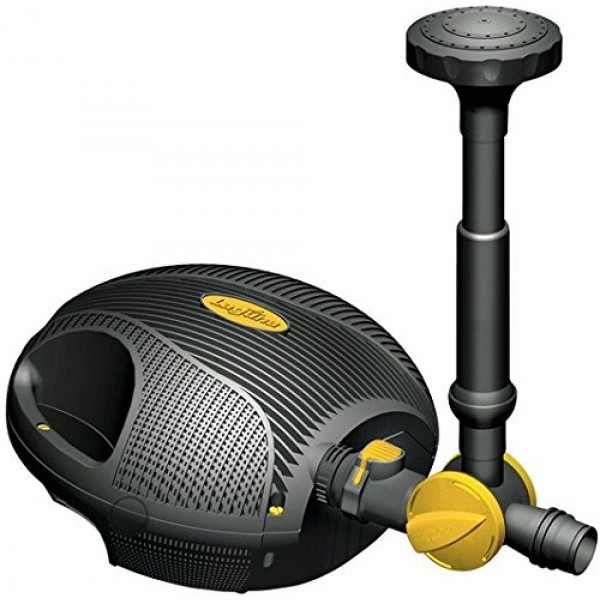 Laa PowerJet 600 Fountain/Waterfall Pump Kit for Ponds Up to 1200-Gallon
Laa PowerJet Fountain Pump Kits
Laa is dedicated to beautifully simple water gardening. These high quality, high efficiency pumps are designed for easy installation and long lasting, worry-free performance.
Laa PowerJet pumps are designed to provide continuous and reliable water circulation. They are ideally suited for a variety of pond applications, such as providing water flow to filtration systems or waterfalls while creating spectacular in pond water displays. The pumps are powered by a magnetic-driven motor that's unrivaled in the market for generating large amounts of water flow at extremely low energy costs. This is great news for people who are wary of costly electricity bills. In fact, switching to a Laa pump will often pay for itself in as little as one season.
Each of the Fountain/Waterfall Pump Kits comes with a European-engineered PowerJet water pump that rests inside a solids blocking cage which helps protect the impeller, preventing clogging and reducing maintenance. Easy to install and operate, the pumps are completely submersible and have been engineered to run continuously.
Designed for powerful performance with low running costs, PowerJet Pumps costs little more to run, than an average household light bulb - conserving the earth's energy while helping to save money on utility bills.
Laa PowerJet 600/960/1350/2000/2400/2900 Fountain Pump Kits
The Laa PowerJet High Performance Fountain/Waterfall Pump Kits contain everything you need to generate powerful water circulation along with a beautiful water display feature. The kits feature Laa's revolutionary foam cartridge-free pump, which sits inside a cocoon-like cage that blocks out dirt and debris and protects the pump from clogging. With this design, the days of having to clean and replace foam cartridges are over.
The PowerJet pump motor is unequalled in the pond industry for its ability to generate an astounding amount of water flow consuming about the same energy as a household light bulb. You really get great bang for your buck. Compared to pumps of equal flow rate, Laa PowerJet pumps will pay for themselves in energy savings over their life time. The kits also include other fantastic features, including two separate flow controls, each one allowing you to independently adjust the water flowing to the fountain and waterfall. Also included with the kit is a unique backwash feature that connects to a garden hose; a remote filter outlet for additional filtration; and an extendable riser stem that can be adjusted both horizontally and vertically. The kits also come with two fountainheads and Universal Click-Fit connectors for fast and easy hose connections.
Made in Italy
View Larger
Laa PowerJet Features
600/960/1350/2000/2400/2900
1. Two quality fountainhead options 3-Tier & Waterbell style.
2. Extendable riser stem allows for multiple height options.
3. Pivoting joint facilitates vertical leveling of riser stem/fountainhead.
4. Dual flow control diverter valve enables independent water flow adjustment between fountainhead and waterfall.
5. Click-Fit coupling provides quick and easy hose connections.
6. Convenient keyhole cutouts allow cage to be easily affixed to flat surface for added stability.
7. Solid ergonomic handle for easy transportation and safe grip.
8. Large intake surface to reduce water speed & restrict clogging for maximum pump protection.
Pump Care:
To avoid shortening the life of your PowerJet Pond Pump, please follow this procedure. Maintenance is simple to carry out and essential.
Once a week - Remove and clean strainer (depending on pond conditions).
Once a month - Remove and clean impeller assembly checking for build up of lime scale which can seriously affect the pump performance. Impeller well should also be checked.
To keep your PowerJet pond pump in good working order always replace any worn parts.
Warranty
The PowerJet Pond Pumps are guaranteed against defects in material or workmanship for a period of 3 years from date of purchase, under normal usage. PowerJet Pond Pumps will be repaired or replaced at manufacturer's discretion, free of charge. This warranty does not apply to any PowerJet Pond Pump which has been subjected to misuse, negligence, tampering or accidental damage to impeller or impeller shaft. No liability is assumed with respect to loss or damage to livestock or personal property irrespective of the cause thereof. This warranty does not affect your statutory rights. Failure caused by misuse is not covered by this warranty.
Fountain and Waterfall Pump Kit
Maximum Flow Rate: 600 U.S. GPH
Maximum Pond Volume: 1200 U.S. gal
Power Cord Length: 16'
3 year warranty