iPower GLBLST1000D Horticulture 1000 Watt Digital Dimmable Electro...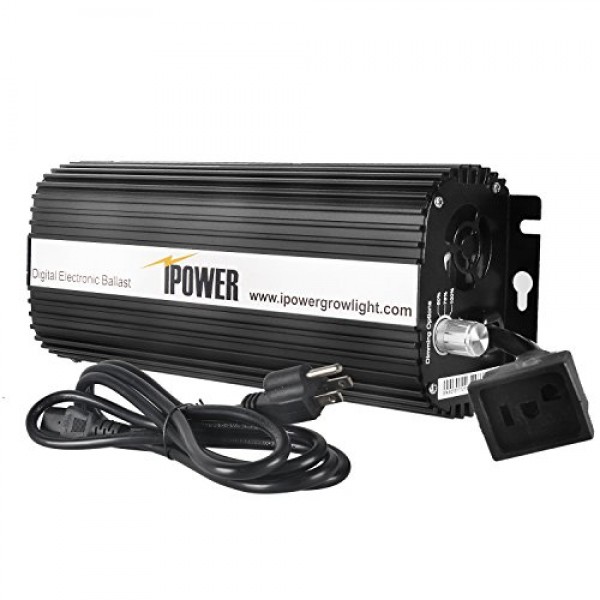 iPower GLBLST1000D Horticulture 1000 Watt Digital Dimmable Electronic Ballast for Hydroponic HPS MH Grow Light, 1000W, Black
iPower Grow Light
iPower Digital Dimmable Grow Light Ballast - 400W, 600W, 1000W
Want to grow bigger and better plants? Tired of yielding less due to poor weather? iPower HPS/MH Digital Dimmable Grow Light System is the solution for all indoor & greenhouse gardens.
iPower Super HPS & Metal Halide Lamp - 400W, 600W, 1000W
 

Fully Convertible – Super HPS or Metal Halide

Features a microprocessor that differentiates between HPS and MH lamps, thus eliminating the need for an extra ballast or a switch.

Can be mounted in any configuration: vertical, horizontal, or hanging

Two year warranty

Plug pattern: for all iPower Digital Ballast and iPower Grow Light Reflectors with Socket & Cord assembly.

 

Cool-n-Lite – Air Cooled Aluminum Finned Casing

The iPower features a powder coated aluminum casing with finned body to maximize heat dissipation. Combined with a 40mm DC fan, the ballast stays on at maximum power without overheating.

Internal fan with an aluminum finned casing

Internal resin coating protects circuits against moisture and foreign contaminants

 

Fully Switchable – 120V & 240V Compatible

Operates from 100V to 265V voltage ranges

Detects input voltage and draws the proper amps accordingly.

Power Surge Protection – Generator Ready

Standard surge protector or circuit breaker is available with every iPower Digital Ballast

8 ft heavy duty power cord included*

*NEMA 6-15 (240 V) power cord sold separately

Dimmable Lighting Control – 50%, 75%, 100% Power Level

The dimming knob changes the desired power level, changing output and power consumption.

Dimming control is only available after the lamp reaches operating voltage to ensure proper mixture of the gasses within the filament to ensure a steady spectral output and color temperature of the lamp.

Best lumen-per-watt-per-dollar lighting system on the market
Frequently Asked Questions:
Q: How many plants can fit under a 4' x 4' (16 sq. ft.) area?
A: The amount of plants that can fit in a 4' x 4' area is completely dependent on the size of the plants and the size of the pots used. A five gallon pot is about 12" in diameter on the bottom, which means you may have up to 16 pots in a 4' x 4' area.
Q: Can a lower wattage lamp be used with a higher wattage iPower ballast, and vice-versa?
A: Different mismatched wattage lamp and ballast per light fixture may cause premature ballast and/or lamp failure, and is not covered under warranty. Please use the same paired wattage lamp and ballast per light fixture; the dimming feature is designed for the purpose of a lowering lamp output when needed.