iPower 24W 2 Feet T5 Fluorescent Grow Light Stand Rack for Seed St...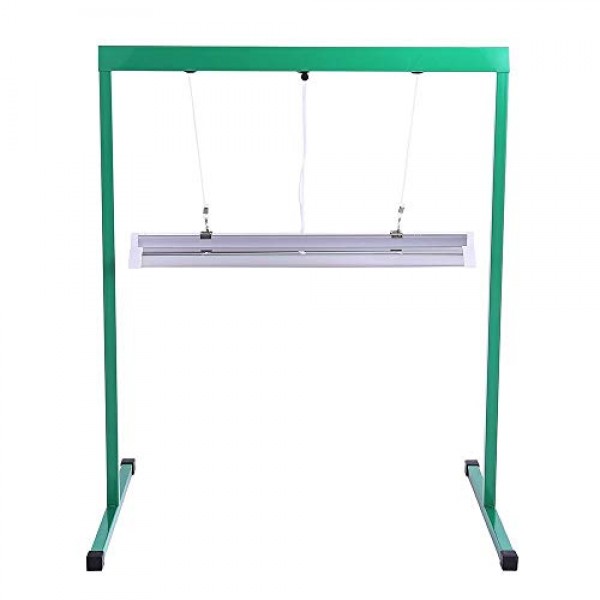 iPower 24W 2 Feet T5 Fluorescent Grow Light Stand Rack for Seed Starting Plant Growing, 6400K
iPower's T5 System delivers performance, flexibility and high lumen output in any growing environment. By combining high-efficiency aluminum reflector with energy-efficient/high-output T5 bulbs and put out double the energy of normal fluorescent systems.
PARTS LIST
2 - Vertical Leg Bar
2 - Foot Bar
2 - Hex Bolts
1 - Hex Key / Allen Wrench
1 - Crossbar with Cord & Lock
1 - T5 Fluorescent Fixture
1 - T5 High Output Fluorescent Lamp
1 - Power Cord with On/Off Switch
INSTALLATION INSTRUCTIONS
Install the two foot bars onto the vertical leg bars perpendicularly. Align the center of the foot bar to the end of the leg bar with the tapped screw hole. Secure the foot bars to the vertical leg bars with the two 4mm hex bolts with the Allen wrench provided.
Set the crossbar on a sturdy flat surface with the square slots facing up. With the foot bar attached, slide the other end of the leg bar into the crossbar. Be sure that the leg bars are seated firmly into the crossbar.
Stand the structure up. We recommend positioning it over a chair or other elevated surface in preparation for hanging your light fixture.
Set the light fixture under the crossbar as shown in figure and pull down the hanger cables. Attach the hanger clips on the T5 fixture to the rings on the adjustable cables.
You may adjust the height of the light fixture by adjusting the length of cord at the center of the crossbar, and setting the height by securing the locking mechanism against the crossbar.
PERFECT FOR INDOOR PLANTS: Light system for starting seeds, propagating cuttings and growing indoor flowers and houseplants
EASILY ADJUSTABLE AND STURDY: Feather-Touch height-adjustment mechanism raises or lowers fixture easily, whole frame is made of metal and very sturdy
PREMIUM QUALITY: T5 high output fluorescent fixture with wide reflector and one T5 bulb provides maximum coverage
ENERGY EFFICIENT: high output full daylight spectrum bulb and super reflective internal finish, 6' grounded cord with On/Off switch
Measures approximately 25 by 18-1/2 by 30 Inch, Super easy assembly, Warranty: 1 year