Intolerance Test - Hair Sample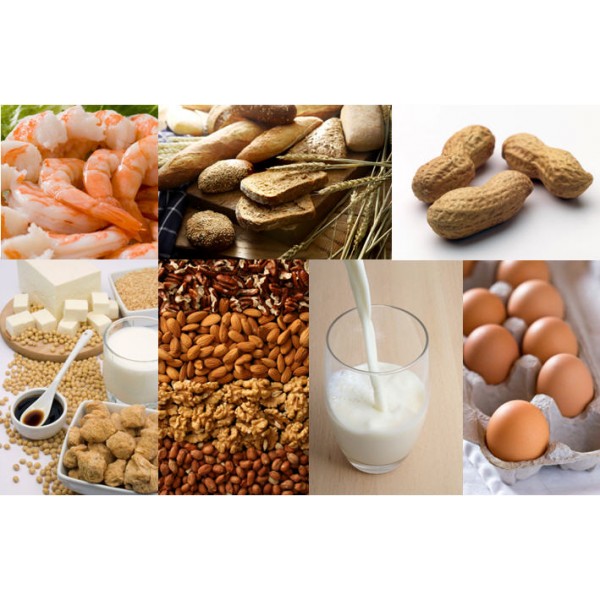 The Iintolerance test is one of the most comprehensive tests available in the world. Using the latest bio-technology, the Intolerance Group's test is safe, simple and is performed on a sample of your hair. Each food, non-food and nutritional item is tested against your sample.
What is tested?
and optionally you can also test for sensitivity to:
80 of the most common nutrients your body requires daily (add $20) - click for full list
24 basic metals (add $165) 1- full list below
This innovative one-step intolerance test enables us to produce a comprehensive report, divided into five areas:
The items of food and non-food that you are intolerant to
Where the non-food items (especially the chemicals) are commonly found
The nutrients your body is lacking (optional)
The food items that these nutrients are commonly found and any illnesses or conditions that can occur due to the lack of these nutrients
Guidance on how your individual intolerances can be reduced or even eliminated completely
How it Works?
Once your order is placed we will send you the following to the email address:
Test application form
Instructions on how to take your hair sample
Instructions on how to return your sample
Please note this test is performed in the UK which is where you will have to mail your application and sample.
Upon receipt of the completed form and receipt of your hair sample the labs will carry out the intolerance test.
What is being tested?
You are tested against more than 300 food items including:

Wheat and Grain products
Barley
Bread -wheat bread
Bread – Rye bread
Buckwheat
Corn
Oats, cultivated oats and oat flour
Rye, cultivated rye and rye flour
Gluten
Wheat and wheat flour
Dairy products
Cows milk (and cows milk whey)
Milk fat and milk lactose
Cheese
Goats milk
Butter fat
Meat products
Beef
Chicken
Lamb
Pork
Fish and shellfish products
Salmon
Mackeral
Cod
Oyster
Lobster
Fruit items
Apple
Banana
Orange
Strawberry
Melon
Salad and vegetable items
Lettuce (Kos, iceberg,romaine etc.)
Cucumber
Beetroot
Celery
Potatoes
Carrots
Drink and drink products
Coffee
Tea
Chamomile Tea
Green Tea
Grape (wine)
Hops (beer)
Malt (beer)
Nuts and seeds
Almonds
Fennel seed
Pecans
Sunflower seeds

You are tested against more than 300 non-food items including:

Pollen
Flower pollen
Weed pollen
Grass pollen
Pets
Cat, dog and horse dander
Budgie feathers and droppings
Fish food
Hamster, guinea pig and gerbil epithelium
Pigeon feathers and droppings
Chemicals and drugs
Alkalase
Amoxcilloyl
Disinfectant agents
Ethylene Oxide
Penicillium
Pepsin
Tetanus
Tree and plant items
Elm
Oak
Horse chestnut
Privet
Rye grass
Insects
Mosquito
Bumblebee
Wasp
Hornet
Honey Bee
Household items
House Dust
House dust mites
Latex

If ordered - you will be tested against 24 metals

Aluminum
Antimony
Arsenic
Beryllium
Bismuth
Cadmium
Chromium
Cobalt
Copper
Dental Amalgam
Gold
Magnesium
Manganese
Mercury
Molybdenum
Nickel
Palladium
Lead
Silver
Strontium
Tin
Titanium
Vanadium
Zinc
FAQ's
My hair is dyed, will this affect the result?
No, the test is completed on the DNA of the hair sample so hair colouring will have no effect on the result.
How do I take a hair sample?
The safest way to take a hair sample is to ask someone else to help you. First brush your hair upwards to reveal the root area at the back of the head, then holding a small amount of hair between the finger and thumb, cut the hair as close to the scalp as possible (without drawing blood). If you do not have anyone to help you, using a mirror may help ensure you avoid injury.
I don't have any hair on my head, can you still complete a test?
The hair sample does not have to be from the head, we have had eye brow hair and even the occasional pubic hair!
How much hair do I have to provide?
Only a small amount, 3-4 individual hairs. We do not require clumps of hair, although occasionally we have been sent very large amounts!
Can you test against a different specific item not included in your test?
Yes we have completed specific tests for many clients to try and help them narrow down their intolerance. This has included specific food items, hair and feathers from pets and leaves from house plants. We are currently offering this test free of charge, you just put a sample of the item you want testing in a separate bag and send it in with your hair sample. This is limited to five items per person, if you require more this can be completed at a small additional charge, please call us to discuss your requirements. We have completed tests on various drugs and chemicals, please call to discuss this before sending them through.
Why are we so cheap?
We keep our costs low and we email our reports saving on postage and stationery. This enables us to offer such a comprehensive and accurate test at the price offered.
Is there anything additional to pay?
You will have to pay for shipping the hsir sample to the processing center in Europe (UK).
I want a test completing on my 6 month year old child, can you complete it?
Yes, unfortunately the major increase in juvenile asthma and eczema has meant almost daily we are completing tests on babies and young children.
Can you complete the test on animals?
According to vets, animals especially dogs can suffer greatly from intolerances. Following requests from several vets (and pet owners) we have designed a test specifically for dogs and cats. You can order the test in the normal manner.
Where are the tests processed?
At present the tests are processed in our laboratory in UK. Once the hair sample has been received at our laboratory you will receive your results within 7-10 days.
Item No TTG001