Indoor Herb Garden Starter Kit - 5 Herb Seeds Gardening Kit with B...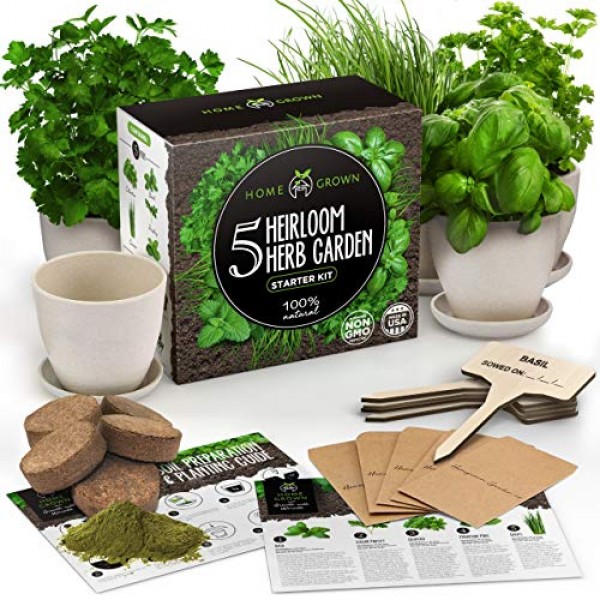 Indoor Herb Garden Starter Kit - 5 Herb Seeds Gardening Kit with Bamboo Planting Pots & Potting Soil - Heirloom & Non GMO - DIY Home Seed Starter Grow Plant Kit - Basil, Mint, Cilantro, Chives Seeds
Make Your Dream Garden Come True - 5 Herb Garden Starter Kit by Home Grown
With the Home Grown 5 Herb Garden Starter Kit, you can start your own garden right at your kitchen windowsill and enjoy fresh, organic herbs that will take your cooking to another level-with zero experience needed!
Our Kit includes:
5 Herb Seeds - BASIL, MINT, CILANTRO, PARSLEY, CHIVE
Set of Bamboo Pots
Bamboo Drip Trays
Nutrition Pack Wood Markers
Ebook on Sowing & Germinating
It has never been easier before and once you try spicing up your cooking with fresh herbs right from the pot, you will never go back to regular herbs or spices, ever again!
No Experience Needed - At all!
Complete with a full, clear and easy to follow set of illustrated instructions that take you through the process, step by step as well as an Ebook with Germination and Sowing Tips and Tricks
Garden Goodness
Our Heirloom seeds are sourced based on their sustainability and their ability to produce high-quality and high-germinating seeds that will meet and surpass your expectations.
Nutrient pack and Peat Pellets
Unlike other packs we include a necessary ingredient for healthy plants with our kelp nutrition pack. Peat pellets are great to start but they need nutrients.
Simply The Best For You and Your Family
We try to make a point by delivering to you products that are strictly non-GMO, with no contaminants like soil particles or plant pulps.
That is why we scoured the country to find the best Heirloom seeds possible, which are grown and harvested in the USA.
seed starter kit indoor live plants gardening supplies hanging herb garden mint plants live herb seeds variety pack thyme rosemary tea sister gifts under 25 dollars seed starting kit

EVERYTHING YOU NEED IN ONE PACK - This kit comes with everything that you need to start your own herb garden. 5 type of herb seeds, soil, plant markers, reusable bamboo pots, trays, and an easy to follow planting instructions are all provided. You need absolutely zero knowledge or experience! Our set comes with detailed and illustrated instructions along with a PDF guide on best practices.
A THOUGHTFUL GIFT - Home Grown's beginner garden set is bound to bring smiles all around and be thoroughly enjoyed. For moms, dads, vegetarian friends, home cooks who love evolving their craft or hobbyist gardeners- you'll win them all over! Get this perfect gardening gift today.
OUR PROMISE TO YOU - The seeds and soil are grown, harvested and packed in the USA. We have made sure that you will be able to start your own herb garden easily at home. Our support doesn't end here as we'd love to see your herb seeds grow. Our Team will make sure to answer and help you all through out your planting journey. If any of your seeds doesn't sprout, let us know and we'll send you a new one.
HIGH GERMINATION RATE, HEIRLOOM and NON-GMO - Your seeds are grown, harvested and tested locally before releasing. Not everyone has green thumb so we made sure that this DIY kit is great for hobbyists and beginners alike. Apart from planting instructions, sowing and germination tips and tricks are also provided.
Start your herb garden INDOOR or OUTDOOR, or even in your own KITCHEN! - This kit comes with ecological bamboo planter pots, drip trays and wood plant markers that you may place nicely anywhere in your patio, windowsill or in the kitchen. You may now grow and harvest your own fresh BASIL, MINT, CILANTRO, PARSLEY AND CHIVE herbs and bring flavor to your favorite gourmet home-cooked dishes.