HERBS SEEDS AMERICAN GROWN DOUBLE SIZE Quantity Heirloom Culinary ...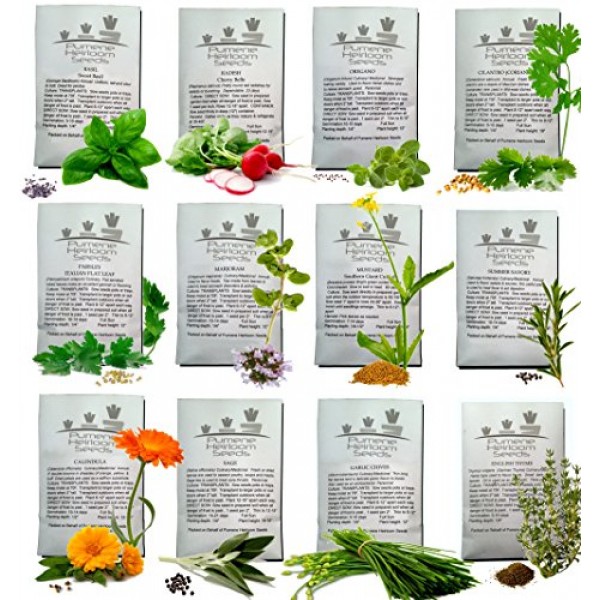 START YOUR ORGANIC HERB GARDEN WITH THIS POPULAR, GMO FREE, HERB SEED VARIETY PACK AT LESS THAN $2.50 PER PACKET!
Our fresh Heirloom germinate-ready Seeds for your Organic Herb Garden will ensure you always have fresh organic herbs ready to enjoy in your Salads and Cooking. You can even grow your own organic heirloom seeds.
THE IDEAL HERB SEEDS VARIETY PACK for a Complete Herb Garden kit with 12 POPULAR HERB SEED PACKETS:
• SWEET BASIL (100 Seeds)
Flavor Pasta, Pizza and Pesto
• SUMMER SAVORY SEEDS (100)
Spice up beans, cabbage, meat dishes
• ITALIAN FLAT LEAVE PARSLEY SEEDS (100)
Add to Mediterranean dishes, pasta sauces, Tabouli
• THYME SEED (100)
Roasted meats, fish, eggplant, stews
• OREGANO SEEDS (100)
Pizza sauce. Used on roasted chicken
• GARLIC CHIVE SEEDS (100)
Onion taste; garlicky flavor. Soups, stews, omelets
• SAGE SEEDS (100)
Pleasant aroma; slightly peppery taste. Meat dishes, stuffing and herbal tea
• MARJORAM SEED (100)
A grassy, lemony but sweeter taste. Meat and poultry stews
• CILANTRO/CORIANDER SEED (100)
All parts edible. Used in curries. Seeds called coriander. Roots used in Thai curries
• SOUTHERN GIANT MUSTARD SEEDS (200)
Mild mustardy, peppery flavor. Young leaves in salads. Stir-fries, Indian Saag dishes
• CHERRY BELLE RADISH SEED (200)
Crunchy and spicy flavor. Enjoy raw with meat and salad
• CALENDULA (Pot Marigold) (50)
Edible, peppery flowers in salads. Garnish. Replacement for saffron. Grow as cut flowers
100% SATISFACTION MONEY BACK GUARANTEE
12 FREE PLANT MARKERS included; Multiple season herb growing use
Start your own Organic Herb Garden today:
Click
'ADD TO CART'
now!
SUPERSIZE HEIRLOOM SEED PACKS - Average 100 Seeds per packet; Double the amount herb seeds per packet than most suppliers. Grow your own herb plants!
12 HERB VARIETIES INCLUDED - Sweet Basil Seeds, Parsley Seeds, Cilantro Seeds, English Thyme Seeds, Garlic Chives Seeds, Oregano Seeds, Mustard Seeds, Marjoram Seeds, Radish Seeds, Summer Savory Seeds, Sage Seeds, Calendula Seeds
GERMINATION TESTED - High Quality Herb Seed Variety Pack from fresh new crops. Open-pollinated for best germination rates
SEEDS HARVESTED FROM USA HERB FARMS - All herb seeds grown, harvested and packed by our own American Farmers
UNIQUE BREATHABLE PACKAGING keeps organic herb seeds healthy and virile by maintaining natural moisture levels and Increases shelf life