Herbal Tea Garden Seeds - Chamomile, Lavender, Mint, Holy Basil, E...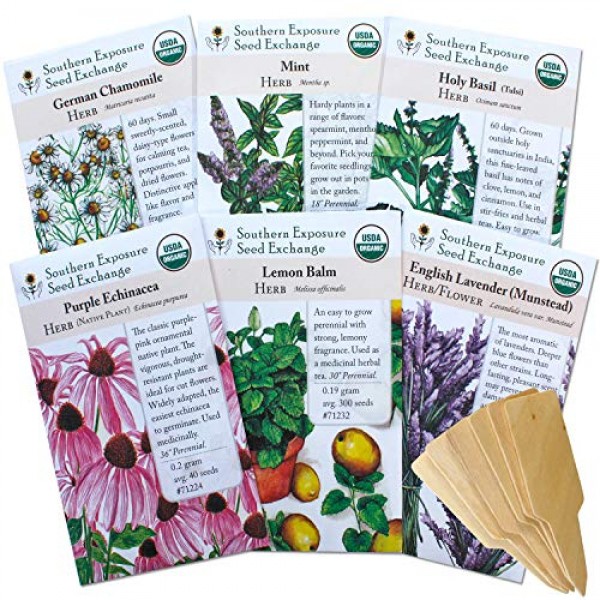 Herbal Tea Garden Seeds - Chamomile, Lavender, Mint, Holy Basil, Echinacea, Lemon Balm - Certified Organic Herb Garden Seeds for Planting - Southern Exposure Seed Exchange Variety Pack
This set of Certified-Organic and Open Pollinated seeds includes:
Organic German Chamomile Seeds - avg 3,300 seeds
This flowering herb is as beautiful as it is flavorful and fragrant. The daisy-like blossoms will brighten up your garden. An annual herb, chamomile is popular for creating calming herbal tisanes, herb teas, and potpourris.
Organic English Lavender Seeds (Munstead) - avg. 250 seeds
With a deeper color blue and stronger scent than other lavender varieties, English Lavender is the ideal perennial for traditional aromatic uses such as herbal tea. Enjoy the delightful and long-lasting relaxing aroma of fresh lavendar or create decorative and fragrant dried flowers.
Organic Mint Seeds - avg. 600 seeds
Easy to grow in both indoor windowsill pots and outdoor gardens, featuring a multitude of flavors ranging from peppermint to spearmint to beyond. Perfect perennial mint seed assortment for mint lovers wanting to try it all. Use as ground cover or plant in containers to prevent spreading.
Organic Holy Basil Seeds (Tulsi) - avg. 200 seeds
Spicy notes of clove, lemon, and cinnamon create a deliciously distinctive tasting basil great for herbal teas and stir fries. A pick and come again annual.
Organic Purple Echinacea Seeds - avg. 40 seeds
Vigorous, drought-resistant, and widely adapted, this hardy variety of the classic native plant is the easiest to germinate. Some use it medicinally. Perennial in Hardiness Zones 3, 4, 5, 6, 7, 8 and 9.
Organic Lemon Balm Seeds - avg. 300 seeds
With a pleasantly strong lemony fragrance, this perennial herb in the mint family is sometimes used as a medicinal herbal tea. Makes a great cold brew tea. Prevent spreading by growing in containers.
6 Wooden Plant Markers to easily label your planted seeds
POPULAR, EASY-TO-GROW VARIETIES. This Herbal Tea Garden seed collection includes six popular varieties with high germination rates: German Chamomile, Mint, Purple Echinacea, Holy Basil (Tulsi), English Lavender, and Lemon Balm.
HIGHEST QUALITY. Non-GMO, Certified Organic, Open Pollinated seeds are packed in 3" x 4.75" seed packets that contain detailed planting instructions for easy seed sowing.
GREAT GARDEN GIFT. Delight the beginner or expert gardener, tea lover, or chef in your life with this seed starter gift kit to grow your own nourishing and abundant tea herb garden. Each seed packet features beautiful illustrations and useful growing and seed-saving tips. The included wooden plant markers - to label your planted seeds - complete this tea lovers gift kit. The seed packet assortment set is packaged in a protective air-tight, resealable pouch.
GROW YOUR OWN HERBS INDOORS OR OUTDOORS. These herbs can be grown in an outdoor garden such as raised beds or an indoor garden using containers. Start now to enjoy fresh herbs straight from your home garden perfect for brewing homemade herbal tea or use in cooking and much more.
SEED SOURCE YOU CAN TRUST. Seeds by Southern Exposure Seed Exchange are Certified Organic by QCS and packed for the current year. Germination testing takes place regularly. Southern Exposure Seed Exchange is a worker-owned cooperative that offers heirloom and organic seed varieties, many of which are especially well-suited to the Southeast, Mid-Atlantic and Mid-West.