Heirloom Pepper Seed Variety Pack | 8 Hot & Sweet Peppers For Plan...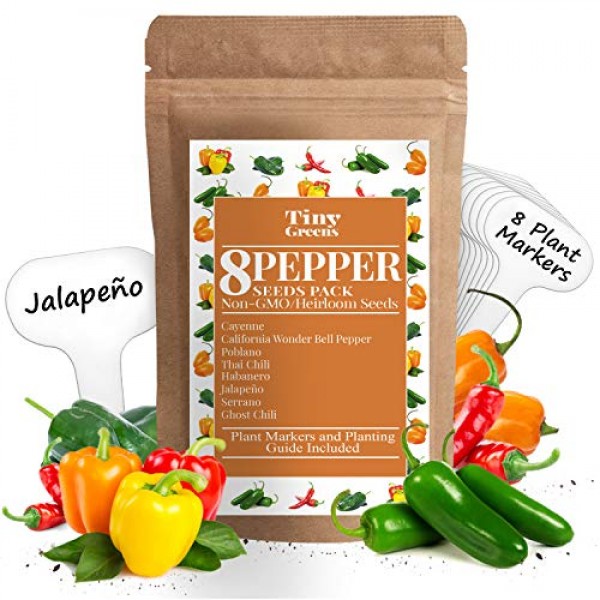 Heirloom Pepper Seed Variety Pack | 8 Hot & Sweet Peppers For Planting | Garden Vegetable Seeds | Cayenne, California Bell Pepper, Poblano, Thai Chili, Habanero, Jalepeno, Serrano, Ghost Pepper
8 Popular Pepper Seed Collection
Varieties: Sweet to Hot (Scoville Chili Heat Rating) - ~25 each
California Wonder Bell Pepper - (0 - 0)
Poblano "Ancho" - (1000 - 2000)
Jalapeno - (3500 - 8000)
Serrano - (8000 - 23000)
Cayenne - (30000 - 50000)
Thai Chili - (50000 - 100000)
Habanero - (150000 - 325000)
Ghost Chili "Bhut Jolokia" - (800000 - 1041000)
Pack also includes:
8 Plant Markers
Growing Guide and Instructions
Love peppers or know someone else who does and want to grow your own? This pack is a great starter pack to grow your own hard to find or sometimes rare pepper seeds. Make great salsas, stuffed peppers, relishes, or just eat them raw with these chili seeds. Watch them grow into full grown pepper plants to enjoy!
Germination Rates
We have tested our seeds to over 95% germination and will guarantee our results. One best way to test your seeds is to do the "paper towel test"

1. Dampen a paper towel with clean (Bottle watered is best) water (not too much)
2. Spread the paper towel on flat surface and place seeds on one half, leaving some space between.
3. Fold over the other half over the seeds lightly and place the paper towel into a labeled ziplock bag. 

4. Place zipped bag of seeds in room slightly warm temperature (70-80 degrees) place away from sunlight. 
5. Check on seeds every other day and open the bag to allow fresh air to circulate. Time will vary for seeds to see if they have sprouted (peppers are normally 1-3 weeks)
Disclaimer & Safety
SEEDS CONTAIN CAPSAICIN - Wear gloves when handling the seeds, do not touch anything else while handling the seeds. 
Wash hands thoroughly when finished. Do not touch the face. Store any remaining seeds immediately.
8 MOST POPULAR PEPPER SEEEDS - We have compiled the most popular pepper and chili seeds for you in one pack! We've included both sweet and spicy peppers that make for a great mix.
SWEET TO HOT VARIETIES - Bell Pepper, Poblano, Jalepeno, Cayenne, Thai Chili, Habanero, Ghost Chili
GUARANTEED GERMINATION 95%+ - We've vigorously tested our seeds & you should too!, but for any reason you are not happy with your germination feel free to contact us. 100% satisfaction guaranteed
GREAT FOR GARDENERS, CHEFS, & PREPPERS - Looking to give a gift or start your own vegetable garden? This pack includes an assorted variety of peppers from mild to hot that are to be a hit at any home.
GROW YOUR OWN PEPPERS - Stop buying old peppers at the supermarket when you can buy your own heirloom - non GMO seeds that allow you to grow indoor or outdoors. You can even start them in your aerogarden pods.