Heirloom Lettuce & Leafy Greens Seeds - Romaine, Kale, Spinach, Bu...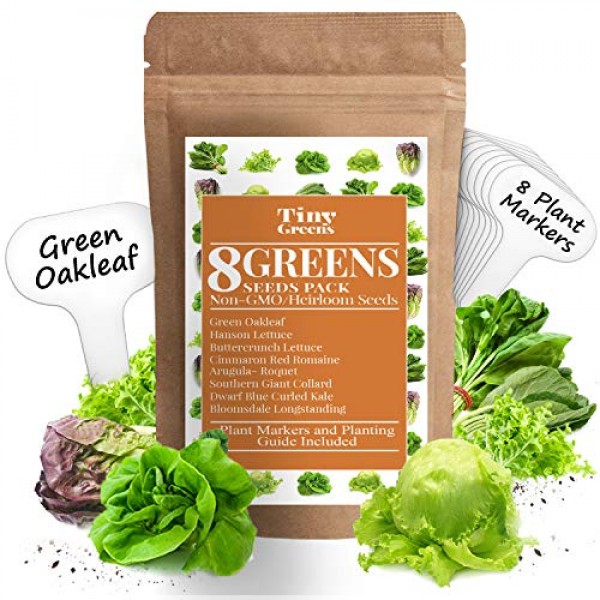 Heirloom Lettuce & Leafy Greens Seeds - Romaine, Kale, Spinach, Butterhead, Oak, Arugula, Collard Greens | 1200 Seeds | Non Gmo Seeds For Planting | Hydroponic Home Vegetable Garden | Microgreen Seeds
8 Heirloom and Non-GMO Lettuce and Leafy Greens Seeds
All seeds contain roughly 150 seeds each - Total: ~1200
Varieties - 
Cimmaron Red Romaine Seeds - Deep red colored crisphead lettuce.
Buttercrunch Lettuce Seeds - Sweet and crisp lettuce with rich flavor
Green Oakleaf Lettuce Seeds - Leaf lettuce that is easy to grow and takes up minimal garden space
Hanson Lettuce Seeds - Head type lettuce with large frilled green leaves
Bloomsdale Spinach Seeds - Deep green curled leaved full of flavor
Arugula Seeds - Cruciferous vegetable with peppery taste also known as rocket 
Dward Blue Curled Kale Seeds - Blue-green kale that is great cooked or raw
Southern Giant Collard Greens Seeds - Curled leafy bright green leaves with great flavor
8 ea Plant Markers
1 ea Planting Guide
Our heirloom Non-GMO seeds are great for gardeners, survivalist, kids, and chefs alike. Get yours today!
Harvesting Time:
Majority of lettuces - 40-60 days
Romain - 75-80 days
Crisphead - 70-100 days 
Looseleaf and butterhead - Anytime during development 
Growing and Planting
Considered to be a care-free growing crop
Ideal growing PH - 6.0 - 8.0
Ideal temp - 80 degrees or warmer for germination
Can easily be started indoors and transferred outside or in a hydroponic system
✔️8 MOST POPULAR LETTUCE AND LEAFY GREEN VAULT PLUS PLANT MARKERS - Start growing your own garden and eating all natural healthy lettuce and leafy greens straight from your yard or indoor garden.
✔️1200 SEEDS & PLANTING GUIDE - Our assorted heirloom seeds pack have a large variety of seeds and with high germination rates. Seeds are contained inside in waterproof resealable mylar pouch to maintain freshness and quality of the seeds. These make great lettuce seeds for planting indoor, outdoor, or in a hydroponic system like aerogarden. Included as well is a planting guide in each pack.
✔️GREAT GIFT FOR GARDENERS - CHEFS - SURVIVALIST - What else is better than giving a gardener a full of seed collection to have a bountiful vegetable garden. Our collection of lettuce and greens starter seeds are great and include planting instructions and plant markers.
✔️INDOOR OR OUTDOOR SUSTAINABLE GARDEN - Plant seeds all year indoors, or in a hydroponic system, and start your own lettuce or leafy green vegetable garden to enjoy amazing greens and salads all year. These can be used as a indoor garden, gardening kit, or in an outdoor garden bed. Plant more and use as spouts or micro greens.
✔️PRODUCT OF USA - Our garden seeds are sustainable sourced in the USA. Have confidence about our quality and 100% satisfaction guarantee. These seeds can work with aerogarden pods and other hydroponic systems.