Hanna Instruments HI98128 pHep 5pH/Temperature Tester, 6-25/64 Le...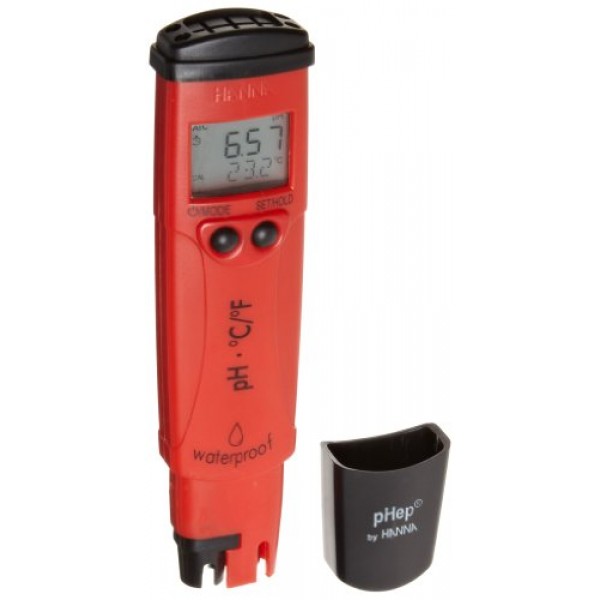 Hanna Instruments HI98128 pHep 5pH/Temperature Tester, 6-25/64" Length x 1-19/32" Width x 1" Height
The Hanna Instruments HI 98128 is a compact pH tester used in laboratory and industrial applications, and has Automatic Temperature Compensation (ATC), automatic calibration, a dual-line LCD screen, a replaceable electrode cartridge, and a housing that floats. A pH meter is commonly used to measure the pH of substance such as water, food, beer, or wine in laboratory, industrial, and food applications.
The dual-line LCD screen simultaneously shows the current measurement and the current temperature, and a hold function freezes readings for recording. The meter has automatic calibration at one or two points with two sets of standard buffers (pH 4.01/7.01/10.01 or pH 4.01/6.86/9.18). The meter has a water-resistant housing, a tactile grip casing, and floats. A battery error prevention system alerts when battery power is low and displays battery percentage on startup. Four 1.5V AA batteries provide approximately 300 hours of continuous use. The meter switches off after eight minutes of inactivity to save battery life. The meter also comes with a HI 73127 pH electrode, an electrode removal tool, and instructions.
Specifications
| | |
| --- | --- |
| pH range | -2.00 to 16.00 |
| Temperature range | -5.0 to 60.0 degrees C (23.0 to 140.0 degrees F) |
| pH resolution | .01 |
| Temperature resolution | 0.1 degrees C (0.1 degrees F) |
| pH accuracy | + or - .05 |
| Temperature accuracy | + or – .5 degrees C (1 degree F) |
| Operating temperature | -5 to 50 degrees C (23 to 122 degrees F) |
| Operating relative humidity | 100 percent |
| Dimensions | 163 x 40 x 26mm/6.4 x 1.6 x 1.0 inches (H x W x D) |
| Meter weight | 100g/3.5oz. |
H is height, the vertical distance from lowest to highest point; W is width, the horizontal distance from left to right; D is depth, the horizontal distance from front to back.
A pH meter, also called a sensor or tester, is a device used to measure the acidity or alkalinity of a substance. A pH meter has either a portable or a benchtop body. Many portable meters are handheld devices. Some testers have an internal sensor, and may have a tip and body that fit inside of a container for measurement. A meter is commonly used in many different environments from laboratories to field research and manufacturing facilities. Researchers, manufacturers, and hobbyists use a pH meter in aquaculture, agricultural, wine-making, and water-testing, and for scientific applications. Some pH meters may measure additional parameters such as dissolved oxygen (DO), conductivity (also called electro-conductivity or EC), temperature, total dissolved solids (TDS), salinity, resistivity, or oxygen reduction potential (ORP)/mV.
Hanna Instruments manufactures analytical instrumentation and supplies, including pH meters, electrodes, chemical reagents, and buffer solutions. The company, founded in 1978 and headquartered in Woonsocket, RI, meets International Organization for Standardization (ISO) standard 9001.
What's in the Box?
HI 98128 pH tester
HI 73127 pH electrode
HI 73128 electrode removal tool
AA batteries (4)
Instructions
Compact pH and temperature tester used in laboratory and industrial applications
Automatic Temperature Compensation (ATC) for accurate pH readings in fluctuating temperatures and automatic calibration at one or two points to help prevent calibration errors
Dual-level LCD screen simultaneously shows the current measurement and the current temperature
Replaceable electrode cartridge to extend meter life
Waterproof, dustproof housing allows the tester to float