GrowLED LED Umbrella Plant Grow Light, Herb Garden, Height Adjusta...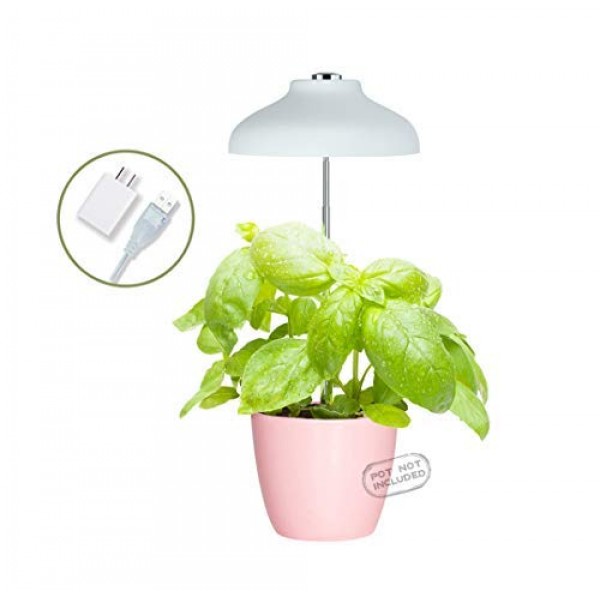 GrowLED LED Umbrella Plant Grow Light, Herb Garden, Height Adjustable, Automatic Timer, 5V Low Safe Voltage, Ideal for Plant Grow Novice Or Enthusiasts, Various Plants, DIY Decoration, White
GrowLED Plant Grow Umbrella Light got the inspiration from the shape of umbrella.
We always wanna offer our customers something creative and convenient to use. Not only a light, but also a decoration for your indoor space.
This Plant Grow Umbrella Light combines neutral white with 4 red LED chips to makes it more suitable to use in somewhere like living room, table etc.
Adjustable height will be perfectly adapt to the growth of plant.
Easy installation, easy to assemble, flexiable to put in any pot as long as there is soil to fix it and socket to use.
Low voltage safe UL Listed Adapter..
Feed your baby plant enough light, and grow with us! It will be a great handy gift for birthday, holidays and remarkable days!
Full Spectrum Plant Grow Promoter: GrowLED designed full spectrum LED grow umbrella light promotes the photosynthesis of most plants, grow better and faster. 4000K cool white makes it more suitable to see and to place in your indoor space.
Height Adjustable: The lighting part can be adjusted in height in order to provide the right amount of luminosity for each plant. Ensure your plant gets enough light.
Stylish Design:Got the inspiration from umbrella. Refine the function of umbrella. GrowLED umbrella is not only a plant light, but also a stylish decoration for any indoor space as long as there is pot with solid and socket nearby.
Automatic Smart Timer: GrowLED Umbrella Plant Light is automatically 16hours on and 8hours off, this mode make sure plants absorb enough light to do photosynthesis and enough time to rest. No worries for forgetting to turn the light off!
2-Step Easy Installation: 2-Step installation, no tool required. Quite easy to assemble and use.