Grow Light, UPSTONE 1000W UV IR LED Plant Lights Full Spectrum Dou...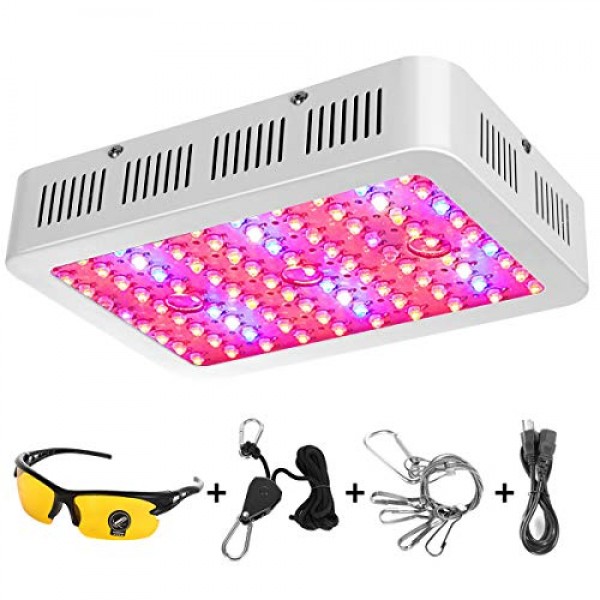 Grow Light, UPSTONE 1000W UV IR LED Plant Lights Full Spectrum Double Chips Growing Lamps Bulbs for Indoor Plants Hydroponics Greenhouse Fruits Veg and Flowers
Main Features Of UPSTONE Plant Grow Light Bulb:
1.Powerful 100pcs LED lights includes blue light, red light, white UV and IR light
2.110W grow light has same effect as 1000W HPS/MH lamps, but it's more energy-saving
3.Full spectrum plant lights provides necessary light for the whole process of plant growth
4.High quality fans are efficient for dissipating heat and protecting the machine
5.Plug and play, one-touch operation, LED plant growing light is easy to set
6.Safe overheating protection system will work automatically once the temperature is too high
7.Super long service life, 100% risk free to purchase plant grow light
8.LED plant lights for seed starting can be widely used in greenhouse and indoor gardening
Specifications:
Material: Acrylic Panel + Aluminium Structure + LEDs
Lumen: 5130LM
Lighting Area: 1.5m²
Operating power: 110W
Voltage: AC100-265A
Size: 12.2 x 8.3 x 2.4in
Function Of Different Lights:
Red ( 620-630NM ):
Red light helps to produce anthocyanidin, chlorophyll and carotenoids,
which encourages plants grow and the increases fructification.
Blue ( 450-460NM ):
Blue light is necessary condition for the development of chloroplast
and formation of chlorophyll, making plants leaves greener and healthier.
UV ( 395-400 NM ):
UV light is great for producing flavonoid and plants will be stronger.
IR ( 730-735 NM ):
IR light adjusts the morphology of plants and promotes photosynthesis
Professional full set of LED grow light
You can get a 100pcs LED full spectrum plant growing lamp panel, a 5ft power cord, a hanging
carabiner with 4 pothooks and a 12in rope, eyeglasses and an user manual. It's easy to install
with these accessories, and please wear this eyeglasses when lamp works as the strong light is dazzling.
FULL SPECTRUM: plant growing light sends out red light, blue light, cool white light and warm white light, IR and UV create a sunshine effect, which improves photosynthesis, encourages the production of chlorophyll and anthocyanidin, and increases fructification
ENERGY EFFICIENT: LED plant lights for indoor plants is only 110W, but it equals to traditional 1000W HPS/MH lamps, full spectrum plant growing light for greenhouse is more energy-saving and environmental friendly
EASY TO USE: come with a hook and adjustable rope, LED grow light for succulents is easy to install, and there is an eyeglasses to protect your eyes from strong light; built in heat dissipating fans, plant growing lamp is safer and has a longer service life
WIDE APPLICATIONS: LED grow lights for indoor plants full spectrum is ideal for all kinds of hydroponics in green house and indoor gardening plants in soil, great for growing, blooming and fruiting of orchid, tomatoes, potatoes, chili, lettuce and strawberries
AFTER SALE SERVICE: 3 years product warranty! All our plant growing light fixtures have passed a strict quality testing before selling on market, and it's approved by CE and FCC; if you have any question about grow lamps for seedlings, please feel free to contact us