Grow Light Strip Kit 45W, 4 pcs 16 Inches LED Grow Light Strips wi...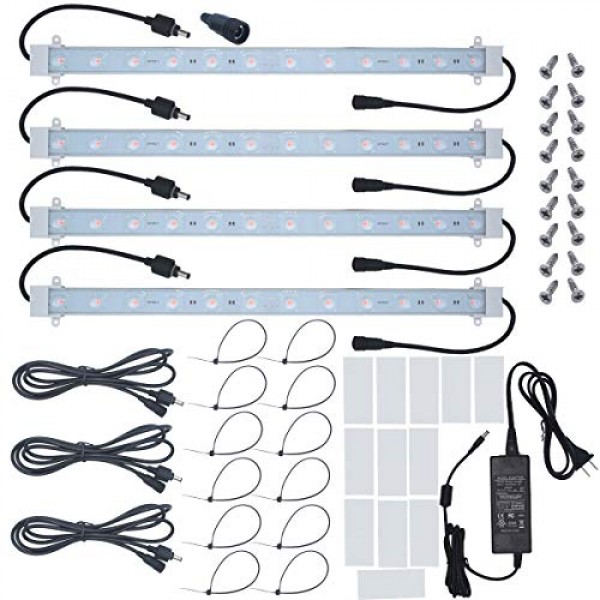 Grow Light Strip Kit 45W, 4 pcs 16 Inches LED Grow Light Strips with Extension Cables, Mounting Accessories for Greenhouse,Grow Shelf. Perfect for Germination, Seedling, Indoor Growing-(4-Strip-Kit)
Product Features:
1. Specially-designed LEDs with optical lens for plant growth. Uniform grow light. No obvious red/blue light bands. More focused and concentrated grow light.
2. Flexible design.
3. Those plant grow LED light bars are waterproof IP65 with waterproof connectors and waterproof extension cables. You can use them in wet environment.
*If you need those plant grow LED light bars waterproof IP65, you need to seal the last open connector with the blind end cap. Also, you need to tighten all the DC jacks with the ring screws on them.
* IP65 means it's ok with dripping water,spraying water, splashing water.
* Those light bars can NOT be immersed in water. They can NOT be used outdoor.
4. 600~730nm red light (peak wavelength 643nm) in the spectrum is very helpful for plant growth, flowering, fruiting.
5.430~470nm blue light (peak wavelength 460nm) in the spectrum is very helpful for seeds gemination.
Litever Plant Grow Light Kit Packing List:
1. 1 PC UL Certified NON-waterproof power adapter
Input: AC100-240V; 50/60Hz; Standard US plug with 120CM cable
Output: DC24V; Max 2.5A; Max: 60W
Output Cable: 150CM 18 awg cable with 5.5mm x 2.1mm male DC plug.
This power adapter is for indoor use ONLY. It's NON-waterproof and shall be protected from direct water or sunshine.
2. 4 pcs Extendable LED grow light bars
Dimensions: Length: 408mm (16.1") x Width: 45mm (1.8") x Height: 15mm (0.6")
Input Voltage: DC24V
Wiring: 19CM DC5521 male jack at one end; 19CM DC5521 female jack at the other end
3. 3 pcs 150CM waterproof Extension Cables .
20 awg, with male DC5521 jack on one end and female DC5521 jack one the other end
4. 1 pc waterproof blink seal
5. 12 pcs 3M pads
6. 12 pcs cable ties
7. 18 pcs screws
Easy Installation This plant grow LED strip kit includes all accessories for quick easy flexible installation.--Pls read the USER MANUAL included in each box carefully for quick easy and safe installation.
Super Bright ---High PAR value.---Good for veg, flower, succulents, verbena plants, etc.
Flexible Installation You can choose to light your plants by connecting the 4 pcs light bars in a linear line. You can also choose to double the light for your plants by connecting 2 pieces LED light bars in parallel.
Premium Quality Safe and certified top quality power adapter. Well-designed aluminum-body led light strip for good heat-dissipation.
Perfect for Germination, Seedling, Indoor Growing Specially-designed light spectrum. Perfect for germination, seedling, indoor growing.