Natural Jute Fabric Burlap Ribbon - 12 x 10 Yards, Loose Weave Bu...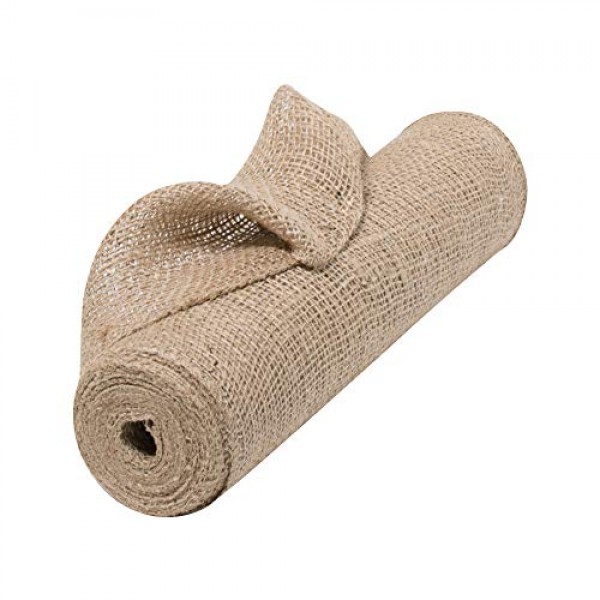 Natural Jute Fabric Burlap Ribbon - 12" x 10 Yards, Loose Weave Burlap, Christmas Tree Ribbon for Crafts, Rustic Wedding Embellishments, Table Runner, Wrap, Wreath, Garland, Swag
At 12" inches wide and 10 yards long you'll find so many uses for this decorative burlap jute fabric ribbon. This rustic ribbon has a natural canvas look and feel created from woven hessian jute fibers. Whether decorating a Wedding or making your own bow this heavy duty light brown colored natural Burlap Ribbon is perfect for that crafty individual who loves DIY projects.
Vintage Brown Natural Fiber Loose Weave Burlap Ribbon 12" wide and 10 Yards long. These thick cloth like burlap rolls are great ribbons for DIY arts and crafts of all types
Comprised of natural jute string creating a tan linen fabric ribbon 6 inches wide, this burlap fabric roll material by the yard can be used for small upholstery projects, birthday banners, outdoor parties and even a rustic bridal shower
Burlap, also known as Hessian, pairs superbly with lace for outdoor weddings! Use as wedding table runners, wrap for decor like mason jars, a vase and chair, or use as rope for the aisle giving your wedding a rustic vintage feel
Ideal natural burlap craft ribbon by the yard for your holiday and Christmas craft. This holiday ribbon can be used for a party banner, gift ribbon, Thanksgiving adornment and to create other burlap decorations.
Also great for making custom bows, wrapping gifts, and creating your own Christmas Wreath or Garland. Burlap is the ideal ribbon decoration to evoke an old world feel.