FertilAid for Women and Ovaboost Combo 1 Month Supply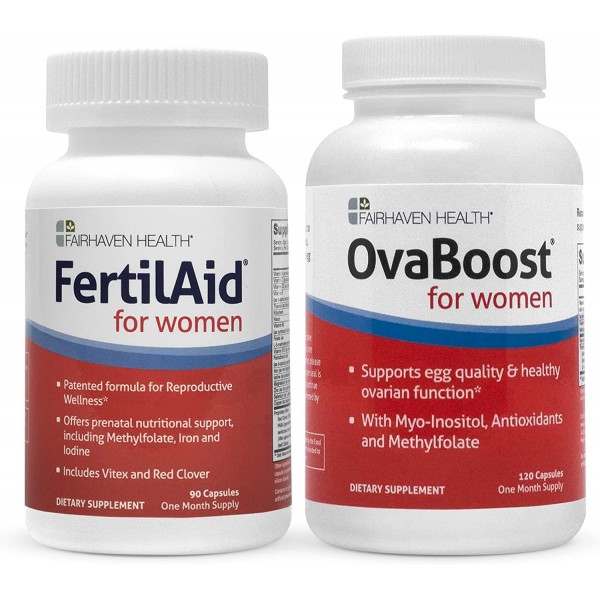 FertilAid for Women and Ovaboost Combo 1 Month Supply
FertilAid for Women is the doctor-designed, Ob/Gyn-recommended fertility supplement designed to enhance fertility and improve your reproductive health. FertilAid for Women was formulated on the basis of established scientific literature to help optimize fertility safely and naturally as part of a healthy lifestyle. OvaBoost is a unique formulation that includes key ingredients to protect egg cells from the damaging effect of free radicals and help egg cells produce the energy they need for successful conception and implantation. Myo-inositol, folic acid, and melatonin, in particular, have been shown to significantly improve egg quality in trying-to-conceive women when taken in specific doses together. In addition, myo-inositol supplementation is thought to improve insulin resistance.
FertilAid for Women is designed to help restore female hormonal balance, promote regular ovulation, and support reproductive wellness and is the best selling fertility supplement on the market today.
FertilAid for Women is a herbal fertility-enhancing supplement and a full prenatal vitamin in one.
Ovaboost is recommended for all trying-to-conceive women, and particularly women over 35 & women with PCOS who are trying to get pregnant.
Ovaboost includes the clinically validated trio of Myo-Inositol, Folate, and Melatonin, which have been demonstrated to improve egg quality in several studies when taken together. Contains a powerful combination of several antioxidants to protect egg cells from free radical damage, and also provides Coenzyme Q10 to help egg cells produce the energy they need to function optimally
Ovaboost is doctor-designed to promote egg quality and support ovarian function in all trying to conceive women.