EAMATE White Light Full Spectrum LED Grow Light, 2-Row V-Shape T8 ...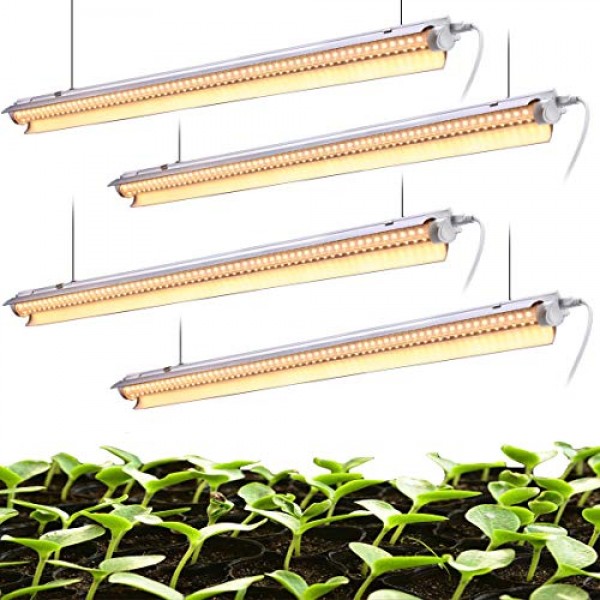 EAMATE White Light Full Spectrum LED Grow Light, 2-Row V-Shape T8 Integrated Growing Lamp Fixture, Grow Shop Light, with ON/Off Switch Plug and Play, Pack of 4 (42W x 4)
Specifications:
Size: 47 Inches (4ft)
Power: 42W x 4pcs
Voltage: AC85~265V
Power Cord: 4.9ft
Frequency: 50/60 HZ
Material: PC + aluminum
Package include:
* 4 x LED Integrated Growth Fixture
* 4 x Power cord with On/Off Switch
* 4 x Installation Accessories
* 4 x Connecting Cords
* 4 x Small Connectors
Tips:
1.This light can connect up to 6 grow lights together.
2.This light is all-in-one design, plug and play, can not be replaced.
3.We recommend mounting the light about 4-12 inches above the plants to avoid burning leaves.
4.Remember to keep enough water for the plants when you use the grow light.
White light full spectrum led grow light, no harm to eyes, healthier and more efficient. Great for greenhouse, hydroponic, indoor plant seedling veg and flower.
Use High efficiency, high output LEDs, longer life span, energy saving up to 70% on your electricity bill. Save your money. Size: 47in/4ft.
Easy installation, plug included with ON/OFF switch. No wiring and reconstructing needed, plug and play.
Extendable design, with connecting wire, can connect up to 6 lights together, also plug and play.
Full spectrum lamp provides light for plants needed at all stage growth, perfect replacement of nature light, with wavelength ranging from 420nm to 780nm, effective for seeds germination, plants sprout, stronger stalk and root, also good for blooming, fruiting and increasing yield.