Doctor's Data Heavy Metals Toxicity Test 31 Toxins Tested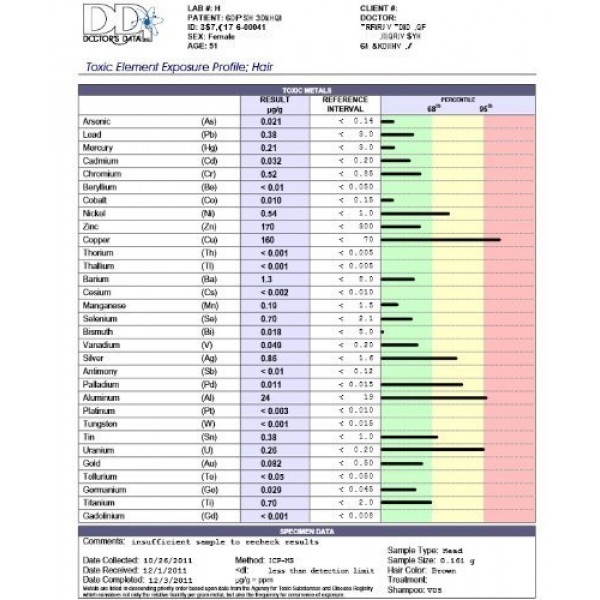 Doctor's Data Heavy Metals Toxicity Test (31 Toxins Tested)
When exposure to heavy metals or other toxic elements is suspected, those impacted want to know whether their health is at risk right away. With this easy, safe, and non-invasive kit, individuals who think they could have come in contact with thirty-one of the most common toxins and heavy metals can find out where they stand in just a few days.
Some of the most frequent toxins and heavy metals tested for include mercury, arsenic, and lead, which makes this kit particularly helpful for families with children living in a home that was trimmed with lead paint. Exposure can be detected as far back as six months, so critical information remains available, even if time has passed.
Some of the indications of heavy metal poisoning can be easily mistaken for other conditions, which makes testing a critical step in ruling out the causes of these symptoms:
-Chronic pain in soft tissues, such as muscular pain
-General feeling of being "under the weather"
-Confusion, forgetfulness
-Chronic infections
-Any on-going stomach or intestinal issues, such as constipation or diarrhea, gas, heartburn, and nausea
-Sudden onset of food allergies
-Migraines, dizziness, other headaches
-Problems with vision
-Tingling, numbness, electrical shocks in the body, particularly in the extremities
Results can be ready in as few as 7-10 business days, so those affected don't have to struggle with the worry and anxiety of not knowing for an extended period of time.
The hair sample required for accurate results is only .25 grams, which is simple and painless to collect. The kit is a CLIA Accredited Laboratory test, so you can be secure that you are purchasing a product that works. Results are presented in quantified detail, showing the screenings at microgram and gram levels.
This Toxic Element Exposure Testing Kit is set an affordable price to ensure that it is accessible to anyone who might have come in contact with dangerous substances.
Tests For Arsenic, Lead, Mercury And More Toxic Elements, Chemicals & Heavy Metals In The Body
An Ideal Test For Anyone With Suspected Exposure To Toxic Or Hazardous Elements
Long Detection Window Of Up To 6 Months With Results In 7 to 10 Business Days
Pre-Paid Return Shipping When Purchased Through Test Country Only - No Additional Fees Required!
Symptoms Of Toxic Exposure Include But Not Limited To Migraines, Depression, Weight Gain And Fatigue