Davids Garden Seeds Flower Zinnia Mixed Colors California Giants ...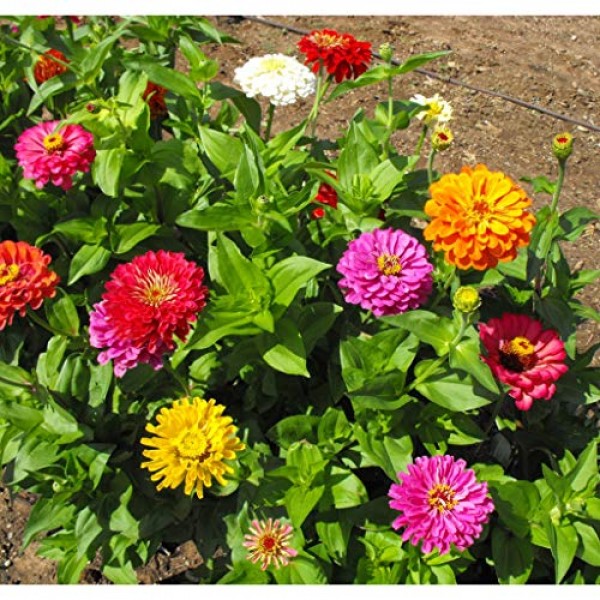 David's Garden Seeds Flower Zinnia Mixed Colors California Giants SL0987 (Multi) 500 Non-GMO, Heirloom Seeds
Heat Tolerant. Grow Heirloom Zinnias - Plant California Giants Zinnia Seeds. Developed in 1926, Heirloom California Giant Zinnias produce stems as tall as 4 feet with huge 5" blooms, making this variety ideal for cut flowers! The shape of the flower is a bit more open than the Dahlia Flowered variety, with petals rounded on the end. Easy to grow, Zinnias look wonderful when planted "en masse". Plant Zinnia California Giant flower seeds in full sun, in beds and borders for a bright and colorful garden. And then, the more you cut, the more they bloom! Zinnia 'California Giants Mix' comes in a mixture of pink, purple, red, orange, white and yellow. The 4-5 inch wide flowers are semi-double to fully double and have flat petals. This Zinnia species is native to Mexico, and it is fast-growing and long-blooming. Zinnias are good cut flowers. In addition, they are excellent for pollinator plantings and are especially attractive to butterflies. David's Garden Seeds is a Veteran owned business that has been providing quality seeds since 2009.
Blooms in about 60 days
Seeds are Non-GMO and hand packed by David's Garden Seeds in the United States
Developed in 1926, Heirloom California Giant Zinnias produce stems as tall as 4 feet with huge 5 inches blooms
The shape of the flower is a bit more open than the Dahlia Flowered variety
Germination rate about 70% or better