Dandelion Seed Packet Collection 3 Package Set Non-GMO Seeds by ...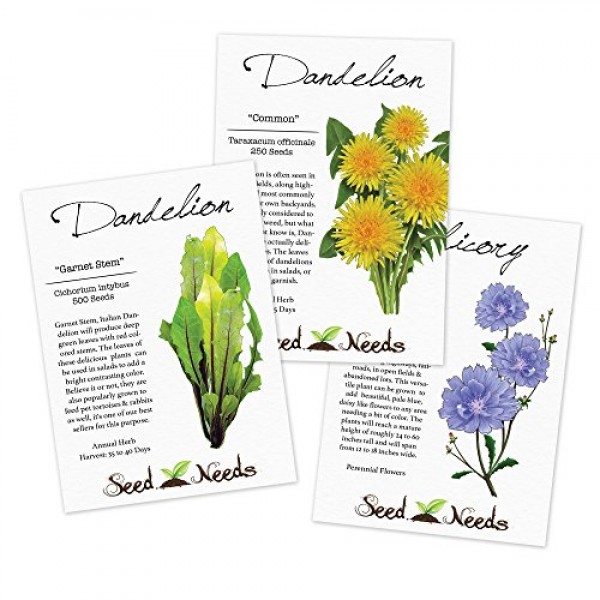 Grow a garden that's filled with Dandelion herbs, from freshly harvested Cichorium intybus & Taraxacum officinale seeds. Dandelion herbs are packed with nutrients, and are most commonly consumed in salads. The flowers of Taraxacum officinale can also be used to garnish as well. The three varieties within this seed packet assortment are all easily grown from freshly harvested Dandelion seeds. The yellow flowering Dandelion (Taraxacum officinale) will return yearly, since it is categorized as a perennial flowering herb. Chicory, the blue flowering Italian Dandelion,is also categorized as an perennial as well. Garnet Stem however, is categorized as an annual flowering Dandelion plant. The mature plants within this assortment can range in heights from 8 inches to 10 inches tall, aside from the Chicory plant, which matures to almost 4 feet tall.
Quality Dandelion seeds packaged by Seed Needs. Intended for the current and the following growing season. Packets are 3.25" wide by 4.50" tall and come with a full colored illustration on the front side, as well as detailed sowing instructions on the reverse.
This assortment includes, Dandelion (Taraxacum officinale) Chicory / Italian Dandelion (Cichorium intybus) and Garnet Stem Dandelion (Cichorium intybus)
Dandelions to some, seem like pesky weeds, but they are actually commonly used in many salads for consumption, due to their high level of nutrients!
Dandelion and Chicory are categorized as perennial flowering herbs, while the Garnet Stem Dandelion is categorized as an annual herb.
All Dandelion seeds sold by Seed Needs are Non-GMO based seed products and are intended for the current & the following growing season. All seeds are produced from open pollinated plants, stored in a temperature controlled facility and constantly moved out due to popularity.