Daikon Radish, Microgreen, Sprouting, 4 OZ, Organic Seed, NON GMO ...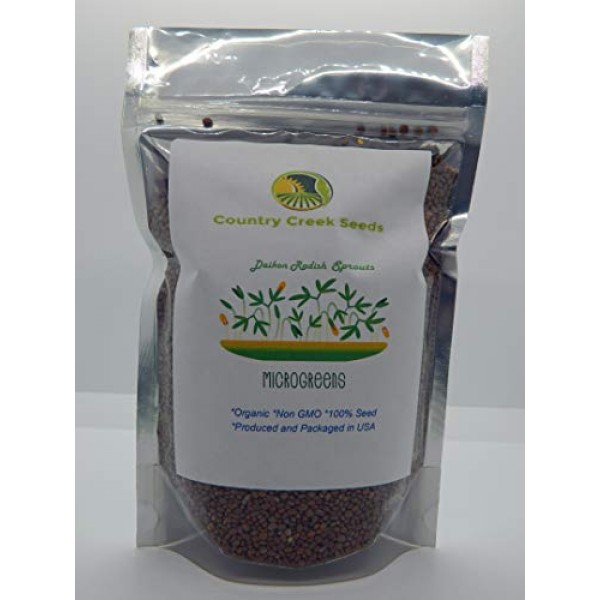 Daikon Radish, Microgreen, Sprouting, 4 OZ, Organic Seed, NON GMO - Country Creek LLC Brand - High Sprout Germination- Edible Seeds, Gardening, Hydroponics, Growing Salad Sprouts
Country Creek Brand - Radish microgreens are substantial and crunchy and taste exactly like radish. Very easy and fast growers. Makes a great addition to any salad, sandwich or garnish. Use sparingly for a radish accent. A great way to ensure a year-round supply of fresh and nutritious greens is to start a microgreen farm at home. The pleasantly peppery radish microgreens, which boast a flavor similar to that of root radishes, are easy to grow (also in winter) and a good choice for those who are new to growing edible microgreens at home. Harvested at about two inches tall, these peppery seedlings are great in salads and cold soups. Their small size also makes them a great raw garnish to dishes that can benefit from a peppery element. The rest of this article describes what you need in order to successfully grow and harvest edible radish microgreens indoors. Radish sprouts are an excellent source of folate, with 100 grams (3.5 ounces) of radish sprouts delivering almost a quarter of the Daily Value of folate. Folate is believed to promote cardiovascular health by breaking down homocysteine, an amino acid that is thought to promote atherosclerosis (fatty deposits in blood vessels). About half of people with cardiovascular disease have elevated homocysteine levels, compared with only 5% of the general population. In addition to providing tons of folate, radish sprouts contain plenty of vitamin B6, another nutrient that has been shown to break down homocysteine in the body.
Re-sealable Gold pouch of Radish Sprouting Seeds
Organic, Non GMO, Sprouting Seeds
High Germination Rate
Long Shelf Life
Country Creek Brand - Perfect for Sprouting, Food Storage, Garden Seed, More