COSSCCI 1.8W Solar Fountain Water Pump for Bird Bath Solar Panel K...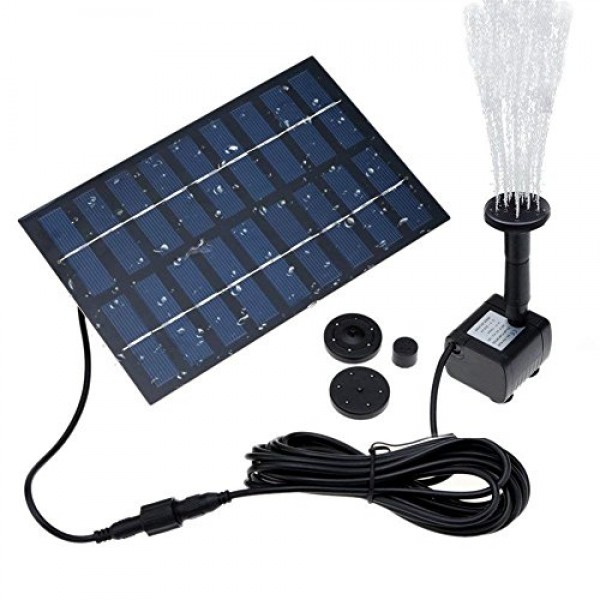 COSSCCI 1.8W Solar Fountain Water Pump for Bird Bath Solar Panel Kit Outdoor Fountain for Small Pond, Patio Garden (Square)
COSSCCI Solar Fountain Pump
Specifications
Solar panel power consumption: 9V 1.8W
Pump power consumption: DC 4.5-10V
Maximum water height: 27.6inches
Maximum flow: 200L/H
Maximum delivery head: 59inches
Start: The water pump will not work without sunlight, It will restart within 3 seconds once the sunlight re-appear.
Life Span≥20000Hours
Working hours in the sun: 8:00A.M.- 5:00P.M.
Delay: ≤3s
Restart: If sunshine is off , it can restart within 3 seconds when sunshine is back.

Note!!!
Under the 3 conditions, the solar pump might not work.
1.Solar panel is in shadow.
2.Solar panel is dirty.
3.The pump outlet is blocked by debris in the water.

MAINTENANCE
◆Don't make the pump work without water for a long time, or its lifespan will be shortened.
◆Always keep the solar panel dry and clean.
◆Clean the pump regularly especially the water outlet and spray caps to prevent it from getting stuck.
◆Change water frequently to keep water clean to avoid any dirt to impede the pump.


✔ This water pump runs automatically, solar powered, no extra power needed, energy-saving and environmentally friendly. Notice: Solar panel must be fully exposed to sunlight, not any part of it can be shaded, or the pump will not work well.
✔ Max water height: 70cm (27.6inch). Cord Length: 9.5Ft. Max water area: 150cm(59inch). The height of water depends on strength of the sunlight
✔ It will start working in 3 seconds once exposed to sufficient sunlight. Please make sure the solar panel is not shadowed and keep the filter intake on the bottom clear of debris.
✔ This solar fountain phas more than 20,000 Hours of lifespan. And it has a built-in brushless motor that provides a longer service life and lower energy consumption.
✔ Comes with fitting accessories and 4 types of sprinkler heads for different water flows and water heights. Perfect for bird bath, fish tank, small pond, garden decoration, water circulation for oxygen.