Chaacoca Moroccan Black Soap Duo eucalyptus black soap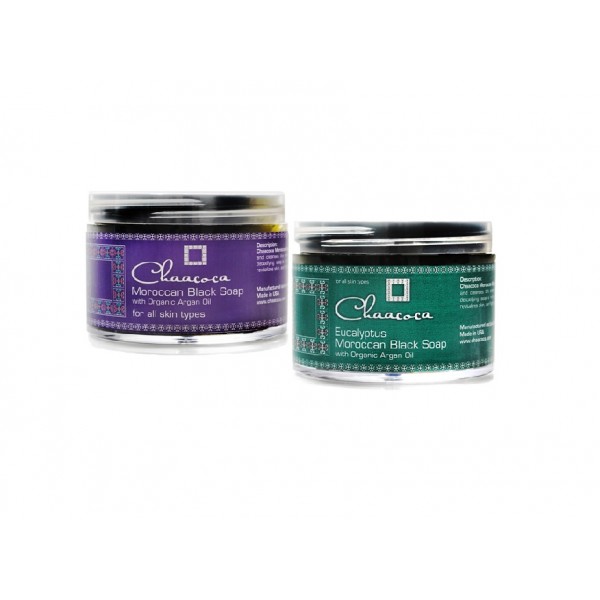 Moroccan Black Soap Duo: natural black soap and eucalyptus black soap:
The black soap is part of the traditional hammam ritual. It is the first treatment in oriental public bath. It is obtained from a mixture of oil and crushed olives, soaked in salt and potash. In the nineteenth century it was used as a product of Dermatology and later became a real beauty tool for the body suitable for every type of skin.
Exfoliating is the best way to keep your skin soft and looking young as it is a way to reveal the new skin that lies underneath the dead skin. It doesn't matter how much lotion you are applying on your skin, if you are not exfoliating your skin on a regular basis, your skin cannot absorb all the benefits of your moisturizer. This is due to your pores being closed by the dead skin cells your skin has shed. Why using harmful chemical cosmetics to remove dead skin if we can benefit of a natural exfoliation?
Chaacoca Moroccan Black Soap is an amazing moisturizing cleanser that exfoliates and cleanses the entire body leaving skin smooth and silky. With its anti-microbial proprieties Chaacoca Moroccan Black Soap is a 100% natural detoxifying soap rich in vitamin E and organic argan oil. It improves the blood and lymph circulation, revitalizes skin, and fights aging. Eucalyptus helps relax the body and adds to the soap some antiseptic, antibacterial and anti-inflammatory properties.
1)Chaacaco Moroccan Black Soap with Argan Oil
2)Chaacoca Moroccan Black Soap with Eucalyptus
• 100% natural!
• Cleans, exfoliates, and revitalize skin
• For all skin types
Recycled Packaging: Net Wt 8 Fl. Oz. / 237 Ml.
Warning: Avoid contact with eyes. In event of contact with eyes, rinse with plenty of water.
Directions: Hydrate your body for approximately 5 minutes in a hot shower or steam room. It's important for your entire body to be warm and moist before beginning this purifying treatment. Smooth Chaacoca Moroccan Black Soap over your whole body and work in using a circular motion. Leave on for at least 5 minutes, and then rinse thoroughly with warm water. After rinsing, use Moroccan mitt (hammam glove) to exfoliate your skin using a circular motion. Rinse again. You will be amazed at the exfoliating power of this product. Finish by washing with your preferred daily soap.
Additional Product Suggestions: After using Chaacoca Moroccan Black Soap, we recommend applying pure organic argan oil to the entire body for a luxurious skin moisturizing experience.
For a total body experience, use Intense Hair Repair Treatment/Mask along with Chaacoca Moroccan Black Soap. Simply apply the 2nd treatment during the 5 minute waiting period of the 1st.
Please Note: In order to avoid ruining your Moroccan mitt do not use with other cleansing soaps or body washes.
Ingredients: Olea Europea (Olive Oil) Soap, Argania Spinosa Kernel Oil, Phenoxyethanol, Ethylhexylglycerin, Citrus Fragrance.
Item No 2558