Centipede Grass Seeds Tifblair Certified 1 LB - 4000 Sq. Ft. Cov...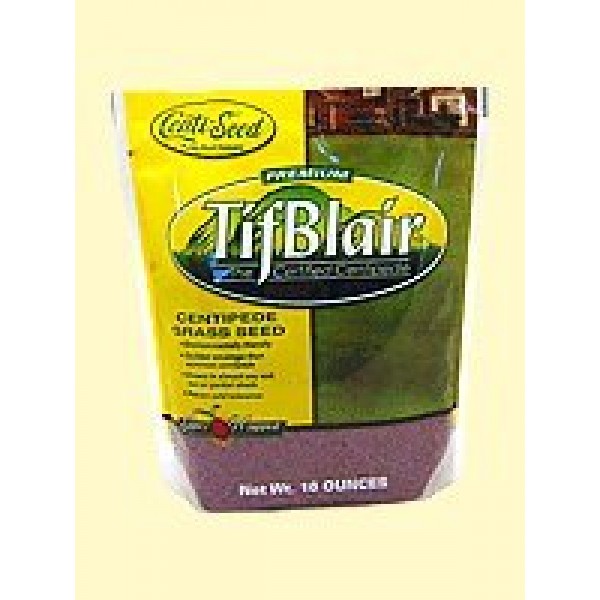 Centipede Grass Seeds "Tifblair Certified" 1 LB - 4000 Sq. Ft. Coverage
The Certified Centipede Grass Seed For more than 50 years Patten Seed Company has produced and marketed high quality Centipede seed under the Centi-Seed trademark. Millions of lawns have been established from southern Virginia through east Texas with the centipedegrass in Centi-Seed . Super-Wrapped Centi-Seed Bags and Display The search for an improved variety of centipede has been underway for many years. Recently, however, Dr. Wayne Hanna at the Coastal Plains Experiment Station in Tifton, Georgia, released TifBlairTM centipede. TifBlairTM has proven to be an improved centipede variety not only in research trials but in landscapes from the transition zone south for several years. TifBlairTM has proven to be such an improved centipedegrass that it has earned the honor of going to the market in our branded Centi-Bag as the first variety change since Centi-Seed was marketed in 1954. Tif♦BlairTM provides the following: * Faster germination and much quicker coverage * Excellent winter tolerance in the middle to lower South * Low maintenance requirements * Super Wrapped for easier spreading * Low fertility requirements * Drought tolerant and fast recovery from lack of water * Needs less mowing and easier to mow * The most Environmentally Friendly warm season grass In addition to improved performance characteristics, TifBlairTM is also the first certified centipedegrass ever. The "blue tag certificate" below guarantees that the TifBlairTM you purchase is genetically pure. Be sure to look for the certification tag on the bag when you buy TifBlairTM Centipede grass seed. Super-Wrapped Centi-Seed Bag Cover Patten Seed Company in an on going effort to make seeding your TifBlairTM Centipede lawn more successful has introduced the unique Super-Wrapped technology.
Low Maintenance
Grows in Full Sun or Partial Shade
Drought Tolerant
Super Wrapped Coating
Excellent Coverage