Cann-Care Azapro - 4 Ounces - Botanical Insecticide - Pest Managem...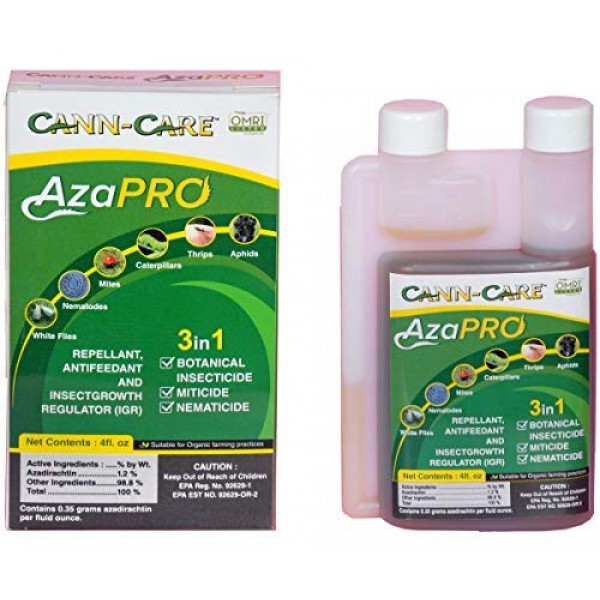 Cann-Care Azapro - 4 Ounces - Botanical Insecticide - Pest Management And Growth Control Concentrate For Organic Gardening
The last thing any farmer or gardener wants to see is their hard-grown plants and crops taken over by pests. This is exactly why we made Cann-Care Azapro to provide you with a green, safe and effective to keep your plants pest-free using only the power of natural plant extracts, without harming the plant or soil.Azapro is carefully made to help you take control of pest growth in your garden or farm on all plants including ornamental trees, shrubs, flowers, garden vegetables, turfgrass, fruit trees, nut trees and so much more.Thanks to its repellent and antifeedant properties, it keeps a wide variety of insects and bugs away from your plants including spider, mites, thrips, whiteflies, leaf miners, and many more to keep your plants safe.It's perfect for use on both indoor and outdoor plants for every growing season making it a great choice for your lawns, horticultural crops, and organic farms.Click on the "Add To Cart" button now to order today and get the peace of mind you always wanted knowing your plants are pest-free with Cann-Care Azapro.
KEEP PLANTS SAFE: Cann-Care Azapro is a Botanical Insecticide that helps you get your pest problem under control without harming the plants or the soil. Created using only botanically-derived, Azapro brings you a broad spectrum of pest control applications for a wide variety of plants to keep them safe and make your life easier.
EFFICIENT INSECT REPELLANT: This organic pest control insecticide can help you effectively control the growth of a wide variety of insects and keep them away from your plants. It can help repel spider, mites, thrips, fungus gnats, aphids, whiteflies, leaf miners, worms, beetles, leafhoppers, scales, and more!
FOR EVERY SEASON: Azapro is carefully formulated to be useable throughout the years. Its the perfect choice for keeping your plants and crops safe from planting the seeds to harvesting making it the ideal choice for every growing season up to the day of harvest.
VERSATILE & MULTIPURPOSE: This organic insecticide for garden can be used with over 200 types of common household plants, vegetable, and fruits including tomatoes, peppers, cucumbers, apples, and many more to make sure they stay insect free and healthy throughout the year.
100% PURE & ALL NATURAL: When we say Cann-Care Azapro is all natural, we mean it. We only use natural plant extracts that are safe for the soil and plants without using additives, preservatives, artificial ingredients or any other harmful chemicals to ensure reliable performance.