Brussels Satsuki Azalea Bonsai - Small - Outdoor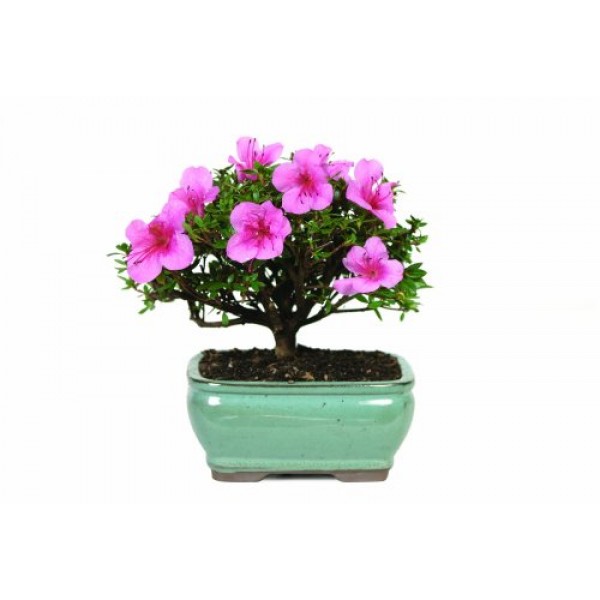 With small, round leaves and large, pink flowers blooming from May to June, this broadleaf flowering bonsai is packed with stems for a gorgeous late spring show. Though the Satsuki Azalea has just one flower per stem, the shrub has so many stems that during the flowering season they are a solid mass of color. Grown in Japan for centuries, the Satsuki Azalea's graceful trunk movement adds distinct shape to the patio, deck or garden. This particular bonsai is 5 years old and stands 8 inches tall. Although evergreens can be displayed indoors for short periods of time, they need to experience seasonal changes and should be kept outside year round.
Brussels grows specimens only under carefully controlled conditions, meticulously training each tree with wire and pruning over a period of years. If upon the tree's arrival some leaves have dropped or turned slightly brown that does not mean the bonsai is unhealthy. Defoliation is the natural result of being in the low-light environment of a shipping box. When you receive your tree, place the box in a shaded area to unpack. Inspect tree for damage to branches or leaves. Water soil if dry, and place the tree in shade for at least one week before moving to a sunny location.
What is a Bonsai?
Literally, the Japanese word "bonsai" means "tray tree" or "plant grown in a pot." The term refers to the artistic techniques used to capture the natural beauty of trees, rather than a specific variety of tree. A full-grown tree and a bonsai can be grown from the same seed--the bonsai has simply been dwarfed and shaped through years of training. For more information on care and training visit Brussel's Bonsai on the Web.

Satsuki azalea bonsai; deciduous, outdoor tree
Grown as bonsai in Japan for centuries
Graceful trunk movement
Pink, white, or red blooms in spring
5 years old, 8 inches tall