Brite Labs LED Grow Lights for Indoor Plants and Seedlings, Triple...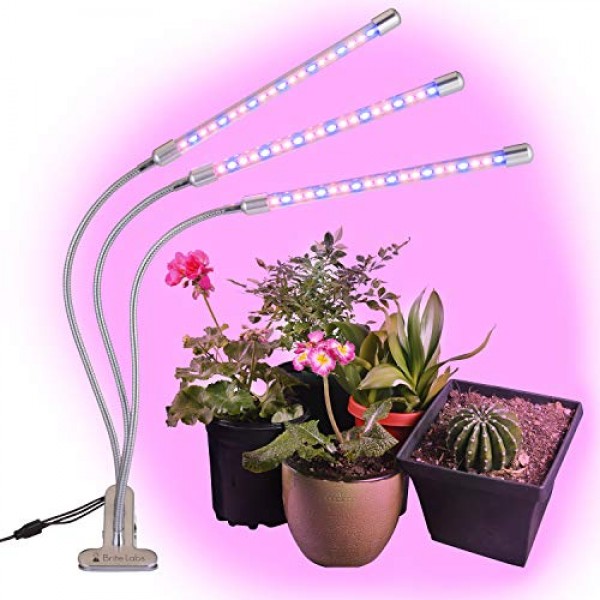 Brite Labs LED Grow Lights for Indoor Plants and Seedlings, Triple Head Plant Growing Lamps with 60 Full Spectrum Bulbs, Programmable Timer Allows Auto On Off, Adjustable Gooseneck with Desk Clip On
During the winter months, or when you've moved your pots to a room with lesser sunlight, planting in the house can feel daunting, even for the most experienced indoor plant grower. Without a robust grow light system, plants can hardly survive. But do you know there's a way to give your beloved plants the next best thing to natural sunlight?
The grow light stimulates growth in plants, in the most convenient and cost-effective way, without requiring excessive watering. It supplies adequate lighting for indoor gardens, aquariums, etc. Simply plug into electrical wall outlets or charge via USB station.
Our full-spectrum LED grow light fixtures and bulbs helps in starting seeds or growing plants indoors. It efficiently mimics the sunlight. With 3 heads, flexible gooseneck, and upgraded timer function, you may expect better and wider coverage for your indoor plants.
The LED Grow Light has 39 red LEDs strip panel, which are really crucial for photosynthesis. They primarily help in seed germination, root growth, and bulb development in the early stages of the plant's life. Additionally, the red light helps the plants yield better, healthier fruits once they're flowering. With 21 blue LED strips necessary to produce chlorophyll, the grow light also enables more energy intake for the plants to grow better and healthier. This also promotes stem and leaf growth.
Specifications:
Material: PVC & Aluminium
Effective Power: 30 watts
LED chip quantity: 60 (39 Red and 21 Blue)
Light Wavelength: Red: 620-630 nm / Blue: 460-470 nm
Input voltage: AC100-240V 50-60Hz
Certification: RoHS, CE, FCC, and UL
Life time usage: 50000 hours
Suitable light distance from plant: 11 to 20 inch (0.3 to 0.5 meter)
Cable Length: 59 inch (1.5 meter)
Package Dimension: 13.4 x 5.3 x 3.4 inch (34 cm * 13.5 cm * 8.6 cm)
Package Weight: 1.74 lbs (0.79 kg)
Package Includes:
1x 3-head LED Grow Lights
1x USB adapter
1x User manual
NEXT BEST THING TO NATURAL LIGHT - Do your indoor house plants fail to get enough sun light? Whether it's due to insufficient lighting in the room, or the cold winter months, our LED Grow Lights give you peace of mind when your plants need to be moved indoors. This remarkable technology promises to keep your plants healthy and thriving! Make sure to try it out!
EASY TO USE - Trying to grow orchid, succulent, or tomatoes without success? If you're not sure what to expect with indoor lights, our grow light will give you nothing to worry about. Witness amazing results in plant growth within a matter of days. Use it for hanging plants, starting seedlings, or planting in trays or small pots in your indoor home garden or greenhouses.
60 FULL SPECTRUM LEDS - With 39 Red and 21 Blue LEDs chip, the portable mini growlight kit offers better coverage. It sustains the growth of succulents, micro greens, cactus, and other indoor plant. Whether in the home garden or commercial greenhouse, it replicates the natural solar spectrum to help plants in all stages of growth. It also features a powerful combination of red and blue lights. While the blue light is needed by plants for photosynthesis, the red light triggers flowering.
IMPROVED AUTOMATIC ON / OFF TIMER - The LED Grow Lights is equipped with the latest patented timing memory function. The upgraded On / Off Timer can now be automatically set up to turn on and off at the same time of the day. You have the option to set it to 3, 6 or 12 hours. Unlike the previous grow light models, there's no need to manually switch this one on. This upgraded feature promises to save you time, money and energy when growing your lovely green plants inside your house or office.
DIMMABLE AND LIGHTING MODES - Jump start your plants' growth indoors with the plant light for indoor house plants. It comes with 6 Dimmable Levels of brightness, which can be adjusted accordingly, depending on the needs of the plant. The lighting modes allow you to switch between red light only and blue light only, or have both lights on. Additionally, the Grow Light has three sets of arms. Pressing a button conveniently switches between turning on the lights for arm 1, 2, and 3.