Blanketflower Common Gaillardia Indian Perennial Flower Seeds, 5...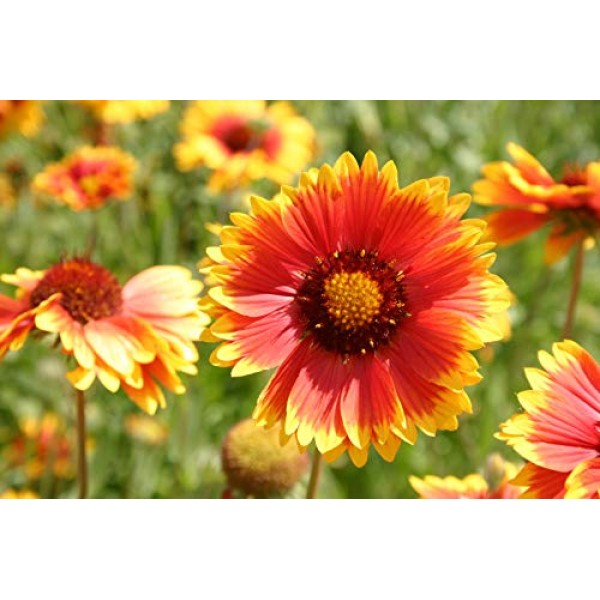 "Blanketflower" Common Gaillardia Indian Perennial Flower Seeds, 500+ Premium Heirloom Seed, (Gaillardia Aristata), 95% Germination, (Isla's Garden Seeds), Non GMO, Highest Quality.
Blanketflower, also known as Common Gaillardia, is a native to much of the northwestern United States. It is an excellent cut flower and is easily grown from seed. As with most perennials, this flower may not bloom the first year it is planted, but once established it is an outstanding garden flower. These are a very drought resistant flowers that prefer well-drained, sandy soil. They require full sun and they need to be kept out of heavy clay soil. The Blanketflower is a member of the sunflower family and may provide a strong attraction to birds and bees. It can be started indoors, but should try starting it outside.
Fantastic for your home flower garden or throw seed for hillside or landscape! Scientific Name Gaillardia aristata Product Type Native Flower Cycle Perennial Color Orange, Red, Yellow Height 12-24" Light Requirement Full Sun
Germination Time 15-50 days Weeks to Bloom 7 to 8 weeks USDA Zone 3 to 9 Origin Native Planting Season Spring, Fall Bloom Season Summer
Beautiful Perennial Flowers, Sunflower Family. Beautiful fresh cut in a bouquet!
Popular choice, great for simple or bulk landscaping!
For more of Isla's Garden Seed products, enter Isla's Garden Seeds into your search bar on Amazon! Please submit a 5 star review to help the continued success of our Garden Seed Company! Please post pictures of your plants and review us! These are high quality seeds, be sure to fully research proper germination instructions for optimal germination rates.